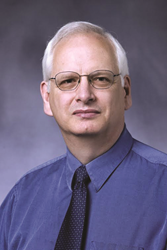 Dayton, OH (PRWEB) September 27, 2014
United Theological Seminary (United) announces the 2014 J. Arthur Heck Lectures and Alumni/ae Banquet, which will be Oct. 14 to 15, 2014.
Dr. Randy L. Maddox will be the speaker at this year's lectures on Wednesday, Oct. 15, at United, which is located at 4501 Denlinger Road, Dayton, OH, 45426. Dr. Maddox' presentation will be "Anticipate Our Heaven Below: Wesleyan Precedents for Reclaiming Holistic Salvation," with two lectures entitled "Salvation -- Not Just for Souls, for the Whole Person" and "Salvation -- Not Just for Humans, for the Whole Creation." The two lectures will briefly trace the historic trajectory of "spiritualizing" salvation, then turn to John and Charles Wesley as early voices seeking to reclaim the biblical conviction that "God's mercy is over all God's works." He will also explore the tensions involved in affirming care for the body and for the whole creation as integral to a Christian understanding of salvation.
Dr. Maddox is the William Kellon Quick Professor of Wesleyan and Methodist Studies at the Divinity School, Duke University . He is currently the Institute Secretary of the Oxford Institute of Methodist Theological Studies and served previously as President of the Wesleyan Theological Society, co-chair of the Wesley Studies Group of the American Academy of Religion, and General Editor of the Kingswood Books Imprint of Abingdon Press. He is an ordained elder in the Dakotas Conference of The United Methodist Church.
United's Alumni/ae Association will present three awards during the Annual Alumni/ae Banquet held the evening before the Heck Lectures: The Effective Ministry Award, The Distinguished Alumnus/a Award and the Outstanding D.Min. Alumnus/a Award. This year's awards banquet and decade reunion lunches ('54, '64, '74, '84, '94 and '04) are Tuesday, Oct. 14, at the seminary.
For more information, including the complete schedule, or to register, please visit Heck Lectures. The deadline for registration is October 10.
United Theological Seminary, now in its 144th year, is one of the fastest growing theological schools in the United States. It was founded in 1871 by Milton Wright, a Bishop in The United Brethren Church and father of Wilbur, Orville and Katharine Wright. United offers accredited, innovative graduate and non-degree education programs for both clergy and laity. See United for more information.