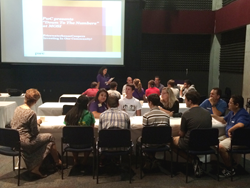 This partnership teaches more than just financial literacy
Tampa, Florida (PRWEB) September 26, 2014
The Global Information Technology Leadership Team of PricewaterhouseCoopers visited the Museum of Science & Industry to mentor Middleton High School students about their financial future. This collaboration with MOSI supports PwC's desire to serve as a catalyst for growth in the community by supporting financial literacy within the community's youth. Representatives from their Leadership Team included Global Chief Solutions Officer Mike Schmidt, Chief Enterprise Architect Ravi Gundimedia and Chief Technology Officer Volker Machmeier.
"This partnership teaches more than just financial literacy," says Molly Demeulenaere Interim President/CEO of MOSI. It gives MOSI and PwC the chance to teach the community how to create a better future. Many of these students never had an opportunity to discuss these topics before."
After an ice-breaker game in which students guessed a secret financial vocabulary word, they gathered to begin discussing serious financial subjects. Paired with volunteers from PwC and MOSI education staff members, students dove deeper into the topics of fraud, debt, money management, paying for college and financial responsibility. For some, this was the first opportunity to have their financial planning questions answered by an expert.
Students spent time discussing each topic with the experts, then rotated to the next table to discuss the next. Each team created a list of important buzz words covered to bring back to the larger group discussion. Together, students created projects and shared ideas generated by the day's conversation.
This session was a pilot program for MOSI and PwC as they work together to create a new education program. Down to the Numbers is a project-based program which incorporates a new learning methodology proven to generate increased learning results.
To wrap up a busy day of exploring the museum and preparing for the future, Middleton students gathered in MOSI's BioWorks Butterfly Garden for a splendid surprise. Students and staff were able to witness the release of dozens of freshly hatched butterflies into the BioWorks Garden. After such an exciting day, it was difficult to board the bus and return to school for these Middleton High School students.
Middleton High School's magnet programs assists students in entering careers in science, technology, engineering and mathematics. The Museum of Science & Industry is a non-profit, community-based institution and educational resource that is dedicated to advancing public interest, knowledge, and understanding of STEAM. MOSI's core ideology is to make a difference in people's lives by making science real for people of all ages and backgrounds.
# # #
About MOSI (Museum of Science & Industry)
MOSI is a not-for-profit, community-based institution and educational resource dedicated to advancing public interest, knowledge, and understanding of science, technology, engineering, art and math (STEAM) and is home to the only IMAX® DOME Theatre in the state of Florida. With a total size of more than 400,000 square feet, MOSI is the largest science center in the southeastern United States. Learn through play inside Kids In Charge! the largest Children's Science Center in the nation; The Amazing You—a 13,000-square-foot exhibition on health and wellness; or Disasterville, featuring Bay News 9 WeatherQuest, which combines education and 10,000 square feet of interactive exhibits on the science behind natural disasters. Conquer your fears on MOSI's Sky Trail® Ropes Course, featuring 35 elements on a 12 – 36-foot-high, multilevel structure, or soar 700 feet on the Sky Trail Zip Line. Budding inventors can engineer anything imaginable and hold it in the palm of their hand in MOSI's new technology playground and inventor's studio, Idea Zone, and preschoolers can experiment with friction and collision physics in Slippery Science, a PNC Passport to Science – Grow Up Great Initiative. Additionally, MOSI recently unveiled its newest exhibition Mission: Moonbase, funded in part by NASA, where guests can travel to the moon to operate a lunar colony. MOSI is the proud winner of the 2009 National Medal for Museums by the Institute of Museum and Library Services, the nation's highest honor for museums. For more information on MOSI, visit http://www.mosi.org.