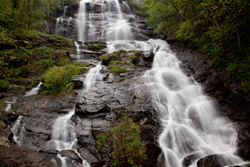 Fun Things to Do in Toccoa
Atlanta, Georgia (PRWEB) September 28, 2014
From photographing waterfalls to exploring wineries, there's plenty of fun things to do in Toccoa, Georgia and the surrounding area. When the sun sets, folks considering relocating to gated Georgia communities might be surprised with the exciting live entertainment coming to the newly renovated Schaeffer Center in Toccoa. This culturally electric center built in 1939 reflects the classic architecture of the era and hosts a wide array of events annually. With over $112,000 in public funding, the once vacant Toccoa performing arts venue has been tastefully restored and reopened its doors offering impressive art and entertainment for the residents of northern Georgia. Owned by the City of Toccoa, this historic building offers a variety of programming.
Events coming to the Schaeffer Center this fall and into early 2015:
Friday, October 17, 2014 - 7pm – "To Kill A Mockingbird" by Harper Lee (Adapted for the stage by Christopher Sergel).
Thursday, November 13, 2014 - 7pm – The Malpass Brothers - "For us, traditional country music is the 'real deal' – every song portrays life's joys, heartaches, problems and happiness."
Thursday, December 11, 2014 - 7pm – "Cinnamon Grits Christmas in the South" - "From the old time honored traditions like turkey and dressin' o your Aunt's stale fruitcake, this production presents all things Christmas... southern style!"
Friday, January 9, 2015 - 7pm – Tugalo Holler - "We are a bluegrass band and we enjoy playing gospel, old standards, new songs and some songs that we have 'bluegrassified'."
Saturday, January 31, 2015 -7pm – Bronn Journey - Harp and Voice - "…music that is nothing short of glorious!"
Thursday, March 19, 2015 - 7pm – The Celtic Tenors - "Three Tenors, One Voice - With a polished international reputation and over 1 million album sales under their belt, The Celtic Tenors offer something truly unique."
Thursday, April 9, 2015 - 7pm – Fernando Varelo - America's Got Talent 8th Season Finalist - "His music uplifts the soul - and an evening spent listening to him becomes a very memorable experience."
Tuesday, April 28, 2015 - 7pm – "Della's Diner" - "Della's Diner is a hilarious musical comedy soap opera full of non-stop surprises, twists and turns."
Art fans will likely enjoy the State Art Collection Tour. In an effort to inspire and inform Georgian's about the importance and power of art, 28 of the most distinguished pieces from the exclusive 600+ piece state collection have been selected to represent and celebrate the long history of art and culture in Georgia. Included in the exhibit will be original works by renowned Georgia artists such as Benny Andrews, Lucinda Bunnen, Herbert Creecy, Howard Finster, Ruth Laxson, and Nellie Mae Rowe. Only nine communities were selected to host this event sponsored by the Georgia Tourism Division and the Georgia Humanities Council. The 2 remaining exhibits this year will be held at the Georgia Museum of Agriculture in Tifton from September 13 through October 27 and at O.F. Edwards North Center in Kingsland October 29 through December 11.
Also providing a cultural awakening and fun things to do in Toccoa, the Currahee Artist Guild is hosting its Annual Fall Festival the first weekend in November in conjunction with the Toccoa Fall Festival. A wide array of artwork in multiple media formats will be available for viewing and awards will be given in each category. From pastels to oil, photography to craftwork, this annual event offers even the most discerning eye a weekend to remember. The event will be held on Saturday, November 3rd from 10am to 5pm and Sunday, November 4th from 10am to 4pm.
While searching for gated Georgia communities in the foothills of the Appalachian Mountains, be sure to visit Currahee Club on Lake Hartwell in Toccoa, one of the first Southern Living Inspired Communities. Not only does it offer panoramic views of the Appalachian Mountains, this family oriented neighborhood has incredible curb appeal and features the ultimate in health and wellness amenities centered around the great outdoors:

Award winning 18-Hole Championship Golf Course designed by Jim Fazio
Mountaintop 48,000 square foot Clubhouse with indoor and outdoor dining
Currahee Club Amenity Campus with resort style swimming pool, Fitness Center and 2 Tennis Courts
Currahee Club Lake Park and Covered Community Boat Docks on Lake Hartwell
Community Garden
On October 1st, the community's newest mountain village is celebrating its grand opening. Deer Run features chic cottage homes with 2,000-3,000 square feet priced in the $380k's to $500k's. Located about an equal distance between Greenville South Carolina and Atlanta Georgia, residents here live in the heart of it all. Living at Currahee Club keeps folks busy at home or enjoying all the fun things to do in Toccoa and cultural events Toccoa has to offer. There's something for everyone in the family. Golf for Dad, fishing for Grandpa, cooking classes and wine tasting for Mom and the kids can swim, play tennis or bocce ball.
Tour new model homes that deliver a big bang for the buck at this warm and friendly Southern Living Inspired Community.
Call Currahee Club direct at 888.560.2582 to schedule a tour.
About Real Estate Scorecard:
Real Estate Scorecard writes unbiased real estate reviews providing in-depth information about popular gated communities in Florida, Georgia, North Carolina, South Carolina and Tennessee, all in an effort to help people discover where to retire in the Southeast.
Website: http://realestatescorecard.com