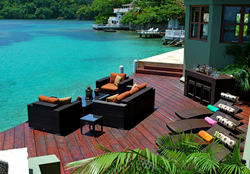 Reciprocal Travel Club for Luxury Second Homeowners
Miami, Florida (PRWEB) September 29, 2014
3RD HOME was recently highlighted in the Wall Street Journal, the Times of London and Bloomberg Business week, as the Airbnb for the luxury crowd. Stein Eriksen Lodge is the newest affiliate joining the collection of 3RD HOME properties. 3RD HOME has a collection of over 2,500 luxury home properties in 72 countries around the globe available for use by club members. From a million dollar chateaux in the Alps to oceanfront villas in the British Virgin Isles. These are not your average vacation homes. Homes in the club's portfolio average $2.3 million and are fully decked out as you would expect.
According to CEO Wade Shealy, "People's second homes are one of the most underutilized assets they own. They spend $2 (million), $5 (million), $10 million for it, and all the maintenance and insurance and taxes, and then they use it two to three times a year. 3RD HOME was created to fill a need expressed by second homeowners to find a safe and trustworthy way to "expand" the use of their second homes without the hassles of renting and maximize the value of their asset.
An exchange made through 3rd Home is not boxed into the same date every year nor does it require the exchange to take place simultaneously. Club members can travel when want and enjoy a sense of privacy staying in a private home verses a busy hotel. This also gives luxury second homeowners the freedom the travel around the globe in addition to their second home. 3RD HOME exchanges may come with access to world-class resort amenities like championship golf courses, five star spas and staffed wellness centers. Sometimes the homes even come staffed with cooks, housekeepers, a driver and personal concierge.
3RD HOME has done an excellent job in Real Estate Scorecard's opinion of insuring the best experience for club members. Members write reviews about the exchange on both sides of the exchange; as the homeowner and as the guest. 3RD HOME's website is kept current showing homes in the portfolio collection, the "keys" needed for the exchange and the dates the homes are available to club members. The website makes it easy to book in advance or at the last minute. Club members save a huge amount of money when they travel. For example, recently a club member stayed in a $20 million home in Martha's Vineyard overlooking the harbor with two other couples for a week for around $500.
To become a club member of this reciprocal travel club is simple and easy. Second or vacation homes are evaluated and then weeks are deposited in the system traded for "keys," the clubs currency. The starting value of a home in the club is $500,000. There is a one time fee of $2,500 to join the club and then fees range between $395 and $995 per exchange depending on the homes valuation. Members have the flexibility of adding as many weeks as they want whenever they want.
Exchanging homes is a very personal experience with 3RD HOME. Club members treat each other like family sharing information about the area's best restaurants, fun things to do, and the best way to get to their home. Luxury homes in the 3RD HOME collection are often times within walking distance of major tourist attractions and places of interest. In addition to private homes, the club has 30 world-class resort affiliates which include The Ritz-Carlton Destination Club and Trump International properties.
3RD HOME offers a risk free trial membership where you can try out the experience and postpone the one time initiation fee until after the first home exchange. 3RD HOME recently introduced a 128-page glossy book that features many of the residences and world-class resorts you can visit. It shows how to turn unused weeks into luxury vacations worldwide. Here's what club members are saying:
Real Estate Scorecard says don't wait to vacation brilliantly! Call 3RD HOME now at 1.615-454-2329 or visit http://www.3rdhome.com/ to request the complimentary 128-page book.
About Real Estate Scorecard:
Real Estate Scorecard writes unbiased real estate reviews providing in-depth information about popular gated communities in Florida, Georgia, North Carolina, South Carolina and Tennessee, all in an effort to help people discover where to retire in the Southeast.
Website: http://realestatescorecard.com