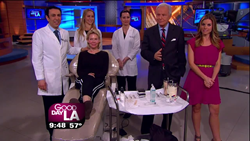 Los Angeles, CA (PRWEB) September 26, 2014
On September 22, 2014, Women's Health Magazine posted an article on its website titled "5 Essential Steps to Treating Adult Acne," that describes a plan adult women can follow to treat their acne. The article first notes that adult acne is very different form teen acne in that inflammatory cysts and pimples are more common due to shifting progesterone and estrogen levels. (see:goo.gl/5axDGW)
"It is important to appreciate that the 'fixes' that may have worked on pimples when one was in high school may no longer be effective," says Dr. Ourian, Medical Director of Epione Beverly Hills. "For example, as noted in the article, products with 10% benzoyl peroxide are probably too irritating to adult skin, and a 5% benzoyl peroxide product is recommended."
According to the Women's Health Magazine article, it's important not to use products that can strip the skin's natural oils. Using witch hazel, soap, or toner can remove defensins, antimicrobial peptides, from the skin. The article also notes that research has linked high-glycemic index foods to adult acne and their elimination may limit breakouts. Finally, the article suggests that one see a doctor if after a few months the over-the-counter remedies prove ineffective.
"Recommending that people reduce stress could be applied across the entire spectrum of health care," says Dr. Ourian. "Also, I appreciate that Women's Health Magazine isn't a scientific forum, but I'd like to see more support for assertions connecting certain foods to adult acne."
Dr. Ourian has been a pioneer in laser technology and non-invasive aesthetic procedures including Restylane, Juvéderm, Radiesse, Sculptra, and CoolSculpting. These treatments are used for the correction or reversal of a variety of conditions such as acne, acne scars, skin discoloration, wrinkles, unwanted fat, stretch marks, varicose veins, cellulite, and others. More information about acne can be found on Epione's website.