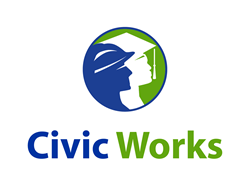 Baltimore, MD (PRWEB) September 26, 2014
A recent Op Ed column in The Baltimore Sun, written by Civic Works Founder and Executive Director Dana Stein, discusses the need for education and job skills training in Baltimore. AmeriCorps, which engages over 75,000 Americans in service projects annually, turned 20 this month, and Stein took the opportunity to call for an expansion of this successful program.
Since the program's inception, over 900,000 AmeriCorps members contributed over 1 billion hours in service. Through Civic Works, over 4,000 AmeriCorps members in Baltimore tutored and mentored close to 40,000 students, grew nearly 60,000 pounds of fresh produce, planted over 25,000 trees, made energy improvements to nearly 6,000 households, and converted over 200 vacant lots into community green spaces.
But according to Stein, there is still a great need for more in our community and elsewhere throughout the country – and a supply of willing volunteers to help. More than 582,000 people applied to become AmeriCorps members in 2012, but there were only 82,500 available slots. Significantly expanding the AmeriCorps program, which rewards volunteers with a modest living allowance and an education award, could lead to a cost-effective way to combat the ills of poverty while encouraging higher education for our young people.
Through a combination of data and Civic Works AmeriCorps member stories, Stein demonstrated the benefits of combining education, skills development and community service. The Op Ed column was a call for action: expand the AmeriCorps program and create more opportunities to serve, around the nation as well as in Baltimore.
The commentary appeared in the September 25, 2014 edition of The Baltimore Sun, and can be found online and on the Civic Works website.
###
ABOUT CIVIC WORKS
Civic Works is Baltimore's urban service corps and an AmeriCorps program. Our mission is to strengthen Baltimore's communities through education, skills development, and community service. Civic Works AmeriCorps participants tutor and mentor students, create community parks and gardens, help homeowners conserve energy, grow food for low-income residents, rehabilitate abandoned houses, involve families in Baltimore City schools, make homes safer for older adults, and recruit volunteers. Civic Works also trains Baltimore residents for employment in the healthcare and green job industries. For more information, please visit http://www.civicworks.com.