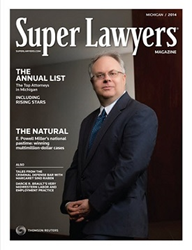 Eagan, MN (PRWEB) September 28, 2014
Super Lawyers, a part of Thomson Reuters lawyer rating service, has announced the Michigan Super Lawyers list for 2014. In April 2013, the Super Lawyers selection process received a patent (U.S. Pat. No. 8,412,564) from The United States Patent and Trademark Office. This distinction is relevant to both attorneys and consumers, as it further demonstrates credibility as an impartial third-party rating system.
Super Lawyers has been recognizing the top lawyers in Michigan since 2006. The list is published annually in Michigan Super Lawyers Magazine to target referring attorneys, and special sections are also included in Hour Detroit and Crain's Detroit Business to reach consumers seeking exceptional legal representation.
The 2014 Michigan Super Lawyers Magazine features E. Powell Miller on the front cover. The editorial piece covers his career as a business litigator winning multimillion-dollar cases, his passion for baseball and his continued endearment for his home state.
Miller is Michigan through and longs to see success in the future for the city of Detroit. "We're on the upswing," Miller says. "I really believe that. We hit bottom with Kwame Kilpatrick's indictment and the bankruptcy, but this will be looked at in future years as the turning point. We're definitely on the rise, and it's exciting for the community.
Those seeking top-rated lawyers online can visit SuperLawyers.com for one of the web's most trusted online directories. Read the digital edition of the 2014 Michigan Super Lawyers Magazine or view the 2014 Michigan Top Lists.
Super Lawyers
Super Lawyers, a part of Thomson Reuters is a research-driven, peer influenced rating service of outstanding lawyers who have attained a high degree of peer recognition and professional achievement. The mission of Super Lawyers is to bring visibility to those attorneys who exhibit excellence in practice.