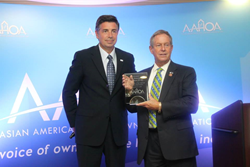 Atlanta, GA (PRWEB) September 29, 2014
The Asian American Hotel Owners Association (AAHOA) today announced that U.S. Rep. Joe Wilson received its prestigious Friend of the Hotelier award at the AAHOA National Advocacy Conference.
Wilson has co-sponsored several pieces of AAHOA-supported legislation, including the Save American Works Act of 2014, which reinstates the traditional 40-hour work week amended by the Affordable Care Act. He also co-sponsored the Jobs Originated through Launching Travel (JOLT) Act, which expands the visa waiver program, and the Travel Promotion, Enhancement, and Modernization Act of 2014, which reauthorizes Brand USA that markets the United States as a destination for foreign travelers.
"Congressman Joe Wilson is a strong supporter of the hospitality industry, and he understands the important contributions of AAHOA members," said AAHOA Chairman Pratik Patel. "He has championed many pieces of legislation that will positively impact small business owners, and AAHOA is proud to call him our friend."
The Friend of the Hotelier award is given to public officials and community leaders, who demonstrate extraordinary and persistent support of issues that serve to promote the hospitality industry and positively impact small business owners.
Founded in 1989, AAHOA is the largest hotel owners association in the world, with more than 12,500 small business owner-members. AAHOA members own more than 20,000 properties amounting to more than 40 percent of all hotels in the United States and employ nearly 600,000 workers, accounting for over $9.4 billion in payroll annually.