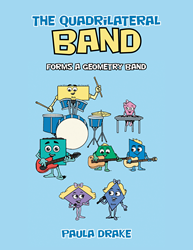 Geometry is essential in our world.
NEW YORK CITY (PRWEB) September 29, 2014
For those who struggle to appreciate math, Paula Drake's new book adds a musical twist. Join along as shapes take on personalities and form a band of quadrilaterals.
Educator of more than 40 years, Drake uses her mathematics background to break down the name of shapes and their classifications for students struggling to understand basic geometry.
"As a teacher I saw students struggle with attributes and terms of quadrilaterals," Drake said. "Their struggle inspired me to make a simplified and fun way to learn."
In "The Quadrilateral Band," quadrilateral characters seek out other similar shapes to be in their band. While on the search for band members, Drake provides clear and easy to follow lessons in geometry.
"Geometry is essential in our world," Drake said. "Learning a basic understanding at a young age will prepare children for the future."
"The Quadrilateral Band: Forms a Geometry Band"
By Paula Drake
ISBN: 978-1-4520-9485-4
Available in softcover and e-book
Available on Amazon, Barnes & Noble and Author House
About the author
Paula Drake is a retired teacher and math consultant. For 10 years, Drake consulted many New York school districts in mathematics by developing curriculums, public speaking, professional development, and mentoring. This is her second book. She is also the author of "How to Make a Snow Day."