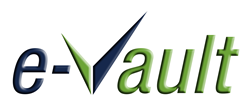 Eagan, MN (PRWEB) September 28, 2014
Today SelectAccount, a leading provider of health savings accounts, introduced its new e-Vault. A powerful electronic document management system where health care receipts can be uploaded, stored and organized all in one place. But the e-Vault goes beyond a simple storage system. It delivers peace of mind as account holders build their medical savings balance to cover future health care expenses. Users can easily track unreimbursed expenditures and know the amount available for tax-free withdrawal at a later date.
"The e-Vault eliminates fading receipts tucked into desk drawers, file cabinets or shoe boxes and organizes them so they can be located easily in the future. Account holders can quickly sort by date, tax year, name or amount," according to Nicole Stretar, SelectAccount Vice President of Product Development and Information Technology. "What's even more exciting is account holders can track the dollar value of unreimbursed medical, dental and vision receipts that they have chosen to pay for out of pocket while they are working and then withdraw tax-free in retirement."
In addition to the option to store receipts, account holders can easily upload receipts to submit a new claim or to match with a previous paid claim. Simply take a photo with a smart phone or upload a scanned document from a computer, enter some prompted information to help store and process the document and hit submit. The e-Vault will display the uploaded documents, the action taken or action available to take in the future. Users can upload as many documents as they like and safely store them for as long as needed.
About SelectAccount
SelectAccount has been driving innovation in medical savings administration for over 25 years. They offer a full suite of tax-advantaged solutions - HSA, HRA, FSA, VEBA, transportation and dependent care accounts to meet client's changing needs as they plan for their health care expenditures. They are one of the leading medical savings administrators in the country managing more than half a billion dollars in consumer medical account savings assets integrated with numerous partner data exchange connections, serving 7,000 employers with account holders in all 50 states. MII Life, Inc., d.b.a. SelectAccount has been approved by the U.S. Department of Treasury as a non-bank HSA Trustee. SelectAccount is headquartered in Eagan, Minnesota with an office located in Chicago, Illinois. Visit http://www.SelectAccount.com to learn more.