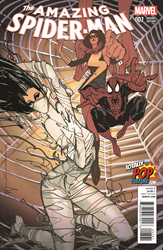 'We are really excited to be part of such an exciting issue and have such an accomplished artist do our variant cover,' said TotallyPopCulture.com Co-founder, Michael Kanik, who also added 'we have received a lot of pre-orders from true Spider-man fans.'
New York, NY (PRWEB) September 30, 2014
Marvel Comics is releasing 3,000 limited variant covers of Amazing Spider-Man #7 for recently launched Internet news site, TotallyPopCulture.com. The issue is scheduled to be released October 8th, 2014 and can only be purchased at the http://www.TotallyPopCulture.com website. However, die-hard comic fans can secure their copies by pre-ordering at TotallyPopCulture.com.
"We are really excited to be part of such an exciting issue and have such an accomplished artist do our variant cover," said TotallyPopCulture.com Co-founder, Michael Kanik. "Amazing Spider-Man #7 brings Ms. Marvel into Spider-Verse. It will be interesting to see how she teams up with Spider-Man and Silk."
The cover art was done by artist, Bill Sienkiewicz, who is an Eisner Award-winning American artist and writer best known for his comic book work for Marvel Comics' Elektra: Assassin.
"The cover for me was a nod to the classic group shot/pinups," said artist Bill Sienkiewicz. He added, "those covers always drew me in, as they featured characters displaying their powers or simply looking majestic or fierce. I went with a rather warm muted color scheme to tie all the characters together as a team rather than having all the brightly colored and patterned costumes fight with one another."
"We have already received a large number of pre-orders, so we know this will be a hot one because if you are a true comic book collector or fan, you are going to want this issue," added Kanik.
TotallyPopCulture.com is a news site that prides itself on providing pop culture news to geeks, nerds and comic book fanatics. The site is a destination for news and humorous editorials covering comic books, video games, sports, TV, as well as movies. TotallyPopCulture.com was founded by entrepreneur brothers, Michael and Chris Kanik, who both share a love for comic books and pop culture.
For more information on how to purchase the Variant Cover of Amazing Spider-Man#7, visit: http://www.TotallyPopCulture.com