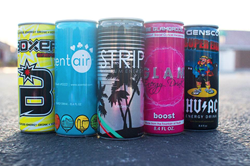 "Whether you are a large corporation looking for a unique custom marketing tool; or you are designing a custom beverage product for a personal occasion, The Drink Ink is dedicated to providing our customers with the best custom beverage experience."
Las Vegas, Nevada. (PRWEB) October 24, 2014
The Drink Ink, a custom and private label beverage company that specializes in the manufacturing of custom energy drinks, custom energy shots and other beverages, has recently acquired MarketBev.com in a strategic move that will allow them to further expand their private label beverage business.
While The Drink Ink has offered private label beverages, including energy drinks, waters, sports drinks and functional beverage services for over half a decade, the acquisition of MarketBev.com will enable them to offer an even wider range of custom and private label beverage services. As The Drink Ink spokesperson Chris Stone explained, "Acquiring MarketBev.com will help us expand even further into the private label beverage market and take our business to new heights."
Custom labeling—a service The Drink Ink has offered since the company's founding in 2009—involves applying a fully customized label to stock beverages, manufactured by The Drink Ink; energy drinks, energy shots and sodas. Private labeling takes this idea a step further and gives customers the opportunity to customize the label as well as to fully customize the formula and flavor to their liking while also choosing the beverage container of their choice that will work within their private label beverage needs. With Marketbev.com and The Drink Ink now working as one, businesses and individuals can market and produce their own 100% unique custom and private label energy drink, energy shot, sodas, sports drinks, functional beverages or waters, tailor-made to fit their lifestyle, taste preferences or brand vision.
"We are excited about this opportunity," says Stone. "Whether you are a small startup entrepreneur to large national brands looking for a custom or private label beverage, we are dedicated to providing our customers with the best beverage experience possible."
Marketbev.com is also enthusiastic about the acquisition, commenting, "With a broad range of capabilities, MarketBev.com strives to provide full service private label beverage solutions for our customers that are creating and selling their own brands."
As marketing becomes an increasingly complex endeavor, business owners will need to find unique ways to promote their brands if they are going to remain competitive. Private label custom energy drinks are an excellent way to provide personalized branding that will capture potential customers' attention. For more information on custom energy drinks, sodas and energy shots, visit The Drink Ink at http://www.thedrinkink.com or call 1-888-454-3466.
###
ABOUT THE DRINK INK
The Drink Ink is a premier supplier in custom and private label beverage development and manufacturing to the beverage industry.
Utilizing The Drink Ink's top of the line custom in house beverages, they can provide custom label energy drinks, custom energy shots and custom sodas, using your graphics in as little as one case of 24. The Drink Ink is the industry leader offering business and brands from hotels, car dealerships, mom and pop shops to professional sports teams to promote their image on The Drink Ink's custom energy products.
In 2010, The Promotional Products Association recognized this effort, when they awarded The Drink Ink's custom labeled energy drinks and custom energy shots with the title of "Best New Product."
Not only does The Drink Ink offer turnkey custom beverage solutions to save time and money, but they also offer full private label beverage production management solutions.
Whether you are looking to start a beverage company, looking to formulate a first of its kind new beverage concept or looking to add another beverage to your existing line; The Drink Ink will enable you to turn your beverage concepts into shelf ready products.
Our ultimate goal is to allow our clients to lessen their risk and capitalize on their potential by leading them through beverage development and beverage manufacturing.
CONTACT THE DRINK INK
Chris Stone
Phone: 1-888-454-3466
Email: chris(at)thedrinkink.com
Website: http://www.thedrinkink.com/contact-us/