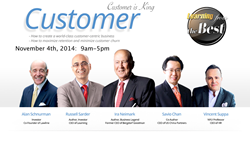 New York, NY (PRWEB) September 28, 2014
Susan Davis, CEO of BRAC USA, will be a featured speaker at the upcoming SarderTV conference Learning from the Best's Customer is Key. The conference which will be held November 4, 2014 at Microsoft's New York City headquarters in Times Square also includes entrepreneurs and organizational leaders such as Ira Neimark, popular author and former CEO of Bergdorf Goodman, Russell Sarder, author, investor and CEO of NetCom Learning, David Schnurman, CEO of FurtherEd.com, Savio S. Chan, CEO of US China Partners and Vincent Suppa, CEO of HR. A Microsoft CRM Specialist will also be one of the speakers.
SarderTV, the only media company dedicated exclusively to educational content and learning, offers provoking, educational and candid interviews so that new entrepreneurs and aspiring business people can learn from them. Tickets to the event are available now through September 21, 2014 at a discounted rate of $199 per person. Sponsorships and group tickets are also available.
Susan Davis is the CEO of BRAC USA and its founder, an international development organization which supports BRAC which is the largest nongovernmental organization in the world. BRAC helps create entrepreneurs in undeveloped areas in the world using community empowerment, micro-financing, education and healthcare to achieve their goals. Susan is also a co-author of the book Social Entrepreneurship: What Everyone Needs to Know with David Bornstein. Prior to joining BRAC, Susan was the Executive Director for Women's Environment and Development Organization and also worked with the Ford Foundation in Bangladesh, and was a founding board member of the Grameen Foundation. She has appeared on CNN and ABC News as an expert in micro-financing, global poverty and health issues. Susan is also one of the more than 1,000 influential leaders, experts and educators who have provided video interviews for SarderTV's learning channel.
The conference should be of interest to all levels of management in the areas of customer service, consumer affairs, marketing, talent management, compliance, product support, sales, quality assurance, and claims. Learning from the Best's attendees will learn valuable strategies to fulfill a company's core purpose: attract and retain customers. The conference brings together a dynamic program including a living retail and business legend, powerful business leaders, academics and bestselling authors who will share actionable data and proven strategies for attracting and retaining customers. All attendees will receive a Certification of Completion and signed copies of Ira Neimark's book The Rise of Fashion and Lessons Learned at Bergdorf Goodman and Savio Chan's book China's Super Consumers.
SarderTV offers provoking, educational and candid interviews so that new entrepreneurs and aspiring business people can learn from them. The database is part of the international Learning Movement created by Russell Sarder to help spread knowledge and inspire a passion in lifelong learning. Operating on the premise that motivated individuals can learn from the experience, the success and the mistakes of others, SarderTV provides a unique opportunity to see and hear influential personalities talk about the subjects that matter to them. Some of the past interviewees have included Ira Neimark, former CEO of Bergdorf Goodman, Susan Davis, CEO of BRAC USA, and Dan Hoffman, President and CEO of M5 Networks. Currently, SarderTV has a database of over 1,000 educational videos featuring C-level executives, global experts, investors, educators, business leaders and authors.
To register for this once in a lifetime learning experience go to http://www.sarderlearning.com/register/
About Sarder TV
SarderTV is a learning channel that contains a series of exclusive educational interview videos from top leaders in their industries, as well as motivational videos encouraging our public to succeed in their personal and professional lives, and many more. Russell Sarder, CEO of Sarder TV, has interviewed a series of leaders, who have shared their experiences and how they were able to achieve their success. Some of the names that Sarder has interviewed are: Ira Neimark, former CEO of Bergdorf Goodman; Russ Edelman, co-author of Nice Guys Can Get the Corner Office, Dan Hoffman, and David Hershfield, SVP Online Technology at RedCats.