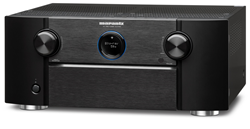 Mahwah, NJ (PRWEB) September 26, 2014
Marantz, a world leader in advanced audio technologies, is about to release their first Multichannel A/V Preamplifier with Dolby Atmos capability, the AV7702. True versatility paired with renowned Marantz audio performance will let home cinema enthusiasts experience a new world of enveloping sound in their home theater. At the same time, the newcomer comes with built-in Wi-Fi, Bluetooth®, and the latest audio and video processing technologies. The AV7702 ($1,999.00 MSRP) is expected to be available in black in October 2014.
Born from its highly acclaimed predecessor, the new AV7702 comes with the latest current feedback topology and the Marantz's own developed high-definition HDAMs, to deliver the power and finesse to astonish any listener. Thanks to its built-in Wi-Fi and Bluetooth capabilities, it opens up to nearly unlimited music sources, such as Internet Radio, Spotify Connect®, Pandora®, SiriusXM™, and AirPlay®. Via DLNA® network streaming, the AV7702 can play music files stored on a PC or external storage unit. Almost any file is possible including MP3, WMA, FLAC HD, ALAC, WAV192/24 and AAC. Gapless, DSD, and AIFF are also supported for the full enjoyment of live concerts or classical recordings. To round up the connectivity options, it comes with an iPod® digital-compatible USB input and a Phono MM input for vinyl fans.
The video section comes with advanced video processing, support of the latest HDMI standard (4k 60Hz pass- through), 7+1 HDMI inputs and 3 outputs for main zone and multi-zone. Even more, the AV7702 features high-quality video processing technology to upscale standard of high definition video to Full HD 1080p and even 4k full rate (50/60 Hz). All guarantee complete compatibility with the latest HD displays and HD source devices.
Thanks to its four DSP (Digital Sound Processing) engines, the AV7702 is capable of handling up to 11.2 channels to fully support Audyssey DSX, DTS Neo:X 11.1, as well as the latest decoding technology Dolby Atmos. The home theater enthusiast will be flooded with the absolute ultimate in surround sound sensation. With Dolby Atmos, sound comes alive from all directions, including overhead, to fill the home theater with astonishing clarity, power, detail, and depth. The AV7702 has the processing power to run a more enveloping, 7, 9, or 11 channel Dolby Atmos layout using 5.1.2, 5.1.4, 7.1.2, 7.1.4 or 9.1.2 configurations utilizing ceiling mounted, or Dolby Atmos-enabled speakers. A 5.1.2 or 5.1.4 speaker configuration is based upon a traditional 5.1 speaker layout complemented by 2 or 4 overhead, or Dolby Atmos-enabled speakers. A 7.1.2 or 7.1.4 configuration is based on a 7.1 speaker layout with 4 overhead, or Dolby Atmos-enabled speakers. A 9.1.2 configuration is based on a 9.1 speaker layout with 2 overhead speakers.
To finish off, the AV7702 owns 13.2ch pre-out capability (11.2ch XLR, 13.2ch RCA) for extreme versatility in amplification options. The most advanced Audyssey MultEQ XT32 (Pro ready) room correction suite adds to the most accurate calibration of the speakers to guarantee that every seat in the room is a 'sweet spot' for audio. Audyssey LFC reduces the transmission of low frequency sound through walls something your neighbors are sure to appreciate, while Audyssey Sub EQ HT cares for perfect integration of two subwoofers in the home theater setup.
AV7702 Multichannel A/V Preamplifier with Wi-Fi and Bluetooth – Main Features

Wi-Fi and Bluetooth built in
Big trapdoor design
Current Feedback topology and new Marantz HDAM
Dolby Atmos
Dolby TrueHD and DTS HD Master Audio
Audyssey MultEQ XT32, LFC, Sub EQ HT, Pro ready
Audyssey DSX; DTS Neo:X (11.1ch)
13.2ch pre-out (11.2ch XLR, 13.2ch RCA) and 11.2ch signal processing
Latest HDMI version with 4k 50/60Hz 4:4:4 resolution
7+1 front HDMI in / 3 HDMI out (2 + 1 zone) (4k 50/60Hz, 3D, ARC, Deep Color)
HDMI scaling 1080p, 4k 50/60 Hz
ISF video calibration
MP3, WAV, AAC, WMA, AIFF
HD Audio streaming: FLAC 192/24, DSD, ALAC
Gapless Playback
USB port
Spotify Connect*, Pandora* Sirius XM* (* where available), Flickr, Internet Radio support
Phono (MM) input
Setup Assistant and Advanced GUI
4 Smart Select buttons for fast selection of listening presets
RS232
Marantz Remote App for iOS and Android™ devices
About Marantz
Marantz is a part of D+M Group. The company can trace its roots back to the dawn of the first mono LP, when Saul Bernard Marantz, a native of New York, was unhappy with the equipment available to play his cherished record collection on. So he had to build his own! Saul officially founded the Marantz Company in 1953. Then, as now, the company's cornerstones were quality and innovation. For over half a century Marantz has been developing unique technologies and bringing landmark hi-fi and home entertainment products to market through its tireless and extensive R&D programs. Such commitment to audio and video excellence ensures each Marantz design delivers class-leading performance. Additional information is available at http://www.us.marantz.com.
About Dolby Atmos
Dolby Atmos® delivers captivating, multi-dimensional sound that places and moves specific sounds anywhere in the room, including overhead, to bring entertainment alive all around the audience. Since its introduction in the Cinema in 2012, Dolby Atmos has been embraced by all the major Hollywood studios, seven Academy Award® winning directors, and 16 Academy-Award winning sound mixers, among others. Later this year, entertainment enthusiasts will be able to enjoy Dolby Atmos in their home theaters. To learn more about Dolby Atmos and home theaters, visit the Dolby Lab Notes blog here.
About D+M Group
D+M Group is a global company dedicated to enhancing life through inspired sound solutions delivered anytime, anywhere. With a strong belief that "Performance is everything," D+M is focused on innovation to meet the needs of customers in an increasingly digital world. Serving the consumer and professional markets, D+M Group brands include Boston Acoustics®, Denon®, and Marantz®. D+M Group has approximately 900 employees worldwide, with products and services marketed in more than 45 countries. D+M Group is a Bain Capital portfolio company.
All product and brand names with a trademark symbol are trademarks or registered trademarks of D+M Holdings, Inc. or its subsidiaries except: Dolby Atmos which is a registered trademark of Dolby Laboratories, Inc.: Pandora which is a registered trademark of Pandora Media, Inc.; and Android which is a trademark of Google Inc.
*Some services may require a subscription.
Disclaimer:
Statements in this news release that are not statements of historical fact include forward-looking statements regarding future events or the future financial performance of the company. We wish to caution you that such statements are just predictions and that actual events or results may differ materially. Forward-looking statements involve a number of risks and uncertainties surrounding competitive and industry conditions, the ability to launch products on time and enable new features sets, market acceptance for the company's products, risks of litigation, technological changes, developing industry standards and other factors related to the company's businesses. The Company reserves all of its rights.