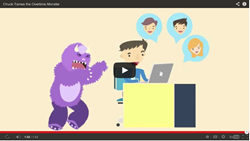 Houston, TX (PRWEB) September 29, 2014
EmLogis, a leading provider of automated employee scheduling software, today announced the release of a new video that explains how EmLogis can help companies gain more insight and control over their overtime spending… in other words, how companies can "tame their overtime monster." The video demonstrates how EmLogis' unique approach to employee scheduling can effectively handle demanding employee scheduling needs in challenging 24 x 7 x 365 work environments while also helping companies build schedules with the least amount of labor costs and within their overtime budgets.
EmLogis new overtime explainer video can be viewed free of charge on EmLogis' corporate web site here: http://www.emlogis.com/chuck-tames-overtime-monster/
EmLogis' new video, part 3 in the series, features "Chuck" who is in charge of building his company's weekly employee schedule and who must constantly juggle employee scheduling requests and changes. Chuck is initially overwhelmed, crazy and disorganized trying to build schedules, keep track of vacation or other employee requests, trying to fill open shifts, get sick days covered and more. He is so busy managing the basics, he often lags in tracking overtime, managing compliance or other regulations, and creating reports for management. When Chuck decides to stop using spreadsheets and move to EmLogis, he is able to automate his company's employee scheduling process and save time and money. Even better, with EmLogis' "schedule optimization engine," is guaranteed to have the "best" schedule every week based on cost, employee preferences, company rules and more. EmLogis shows Chuck exactly how much overtime and labor costs are associated with each schedule and each schedule change. And if Chuck needs to fill open shifts, EmLogis can automatically provide him with a list of available employees that can fill the shift within the company's overtime budget.
"EmLogis gives a whole new perspective on overtime expenses and how to control them," said Mark Kirkland, Vice President of Products at EmLogis. "Our new explainer video does an excellent job at showing how EmLogis' approach to employee scheduling and overtime tracking is unlike any other on the market. Our unique employee scheduling algorithm enables us to build the "best" schedule every time not just based on cost or overtime, but also on employee preferences, rules, regulations, and more… whatever the company sets as a priority."
About EmLogis
EmLogis offers web-based, automated employee scheduling software is specifically designed for challenging and complex employee scheduling environments – such as those that require 24 x 7 x 365 staff coverage and have demanding staffing-level requirements, skill-level requirements, or strict compliance requirements. These requirements are often found in Corrections Staff Scheduling, Long Term Care Staff Scheduling, Dialysis Staff Scheduling, as well as many other Public Safety Staff Scheduling and Healthcare Staff Scheduling situations. EmLogis provides a powerful, easy-to-use employee scheduling solution that is easy to install and use and is entirely web-based, requiring no installation, no hardware, and no upgrades.
EmLogis' employee scheduling software is proven to reduce staffing costs, ensure staffing level compliance requirements and increase employee satisfaction. Unlike other employee scheduling solutions that can cost hundreds of thousands of dollars and can take a year or more to set up, EmLogis is easy to use, affordable, and can take as little as 14 days to implement.
Headquartered in Houston, Texas, EmLogis serves customers worldwide primarily in Corrections, Public Safety, Healthcare, and Long Term Care environments. Contact EmLogis at +1-888-302-9830 or visit http://www.emlogis.com for more information.
EmLogis and SmartRules Scheduler™ are trademarks of EmLogis Inc. in the United States and other jurisdictions. All other company and product names may be trademarks of their respective companies.