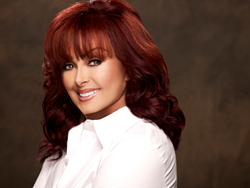 We cannot think of a more exciting person to kick off our conference in Nashville by sharing her wisdom and insight and zest for life.
Alexandria, Va (PRWEB) September 26, 2014
The National Hospice and Palliative Care Organization looks forward to welcoming the legendary Naomi Judd as the opening guest speaker at its 15th annual Clinical Team Conference and Pediatric Intensive being held at the Gaylord Opryland Resort & Convention Center. On October 27, 2014, Ms. Judd will kick off the official conference with her presentation "Surviving and Thriving in Challenging Times" to an audience of hospice and palliative care professionals and supporters.
Naomi Judd knows a thing or two about surviving and thriving through challenges. Using her own touching personal stories and unique brand of humor, Naomi will share her journey of being both a patient (as a Hepatitis C survivor) and a caregiver (as a former nurse early in her life).
From humble beginnings as a single mom in a small Kentucky town to her meteoric rise as a country music superstar and American icon, Naomi Judd's incredible lifelong journey is an inspiring story of overcoming the odds through optimism and hard work, first known to the world as half of country music's mother/daughter duo, The Judds. Reaching unprecedented success throughout the 80's and 90's, The Judds sold 20 million records, scored fifteen #1 hits and received over sixty industry awards including six Grammy's, seven consecutive CMS Vocal Group of the Year awards and ACM's Top Vocal Duet award.
As the pinnacle of their career, Naomi was stricken with Hepatitis C, a potentially fatal chronic liver disease, incurred from an infected needle when she worked as a registered nurse, cutting short her musical career and forcing her into retirement to battle the disease. The Judds bid farewell to the fans in 1991, but Naomi did not step out of the public spotlight for long. In a full circle moment, In November 2010, Naomi and Wynonna took to the road for an 18 city tour for the first time in a decade on "The Judds: The Last Encore Tour" and released a new single, "I Will Stand By You." Chronicling that experience was "The Judds," a docu-series which premiered Spring 2011 on OWN: Oprah Winfrey Network and in 2012 re-aired bon Great American Country network.
Today, Naomi is a survivor of Hepatitis C and uses her fame, her experience as a former RN and her passion to reach and help people in a variety of mediums including public speaking, film, television and radio shows, including her six-week SiriusXM radio series, "Think Twice" which aired the summer of 2012, and authoring seven books which include two New York Times best-sellers. Meanwhile, Naomi also continues her humanitarian efforts.
"We cannot think of a more exciting person to kick off our conference in Nashville by sharing her wisdom and insight and zest for life," said NHPCO President & CEO J. Donald Schumacher.
On-site conference registration is available for single day passes, the full conference, and preconference seminars (October 25 – 26). Visit the CTC registration desk at the Gaylord Opryland Convention Center. For more information on the CTC and educational offerings, visit the CTC website at http://www.nhpco.org/conferences/ctc-2014.