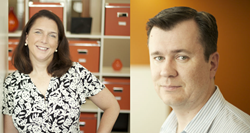 I'll be covering some pretty ground-breaking tactics that can really benefit online marketers, but aren't necessarily that well known.
Charlottesville, Va. (PRWEB) September 29, 2014
Janet Driscoll Miller and Tad Miller of digital marketing agency Marketing Mojo will once again be showcasing their search marketing expertise during sessions at SMX East, taking place September 30-October 2 in New York City. The conference will cover search engine optimization (SEO), paid search advertising, mobile search and social media marketing tactics to boost conversions, sales and overall web site traffic.
This marks the third time the husband-and-wife team have been selected to speak at the same SMX conference. They previously spoke earlier this year at SMX West in San Jose, Calif. Their sessions will be taking place on Thursday, October 2.
Tad Miller, Vice President of Accounts at Marketing Mojo, will be kicking off the Paid Search Track on Thursday on the panel "Protecting Your Brand From Online Fraud, Hijacking, Infringement & Other Threats," during which he will cover tactics for protecting your brand from competitor "conquesting" with pay-per-click (PPC) advertising.
He will also be speaking on the afternoon panel "Targeting is the New Retargeting," during which he will discuss how marketers can utilize demographic targeting options in online advertising platforms to better hone in on their ideal audiences.
"It's always an honor to be selected to speak at an SMX Conference, and to be selected to speak on two different sessions at the same conference is a rare feat that I'm proud to take on this year at SMX East," said Miller. "Both of my sessions will be covering new topics that, to my knowledge, have never been discussed at an SMX conference before.
"I'll be covering some pretty ground-breaking tactics that can really benefit online marketers, but aren't necessarily that well known," he continues.
Janet Driscoll Miller, President and CEO of Marketing Mojo, will be speaking on the "Meet the SEOs & Search Engines" panel on Thursday afternoon, where she'll be joining veteran SEOs and representatives from Google and Bing to answer burning search engine optimization questions from the audience. Panelists will include Bruce Clay of Bruce Clay, Inc.; Gary Illyes of Google, Vincent Wehren of Bing, and Ellen White of Ford Motor Company.
"I'm always very excited to speak at SMX each year, and this year has been an especially interesting one in SEO with so many dramatic shifts and changes," said Driscoll Miller. "It's an honor to join such an esteemed group of SEOs and search engine professionals on this panel, and I'm looking forward to tackling some interesting questions."
To learn more about SMX East, visit http://searchmarketingexpo.com/east.
About Marketing Mojo
Marketing Mojo is a full-service, data-driven online marketing and demand generation agency. Originally founded in 2005 as Search Mojo, Marketing Mojo has evolved its core services to adapt to the ever-changing needs and challenges of marketers – helping them to achieve their online marketing goals through search marketing, paid media, content marketing and marketing automation. With experience in a wide range of digital marketing disciplines, the Marketing Mojo team uses the latest information and techniques to help companies maximize the sales funnel and get the highest quality results based on their goals. For more information, visit Marketing Mojo at marketing-mojo.com or read the Marketing Mojo blog at marketing-mojo.com/blog.