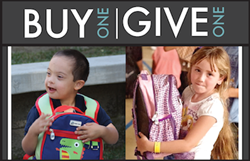 Parents had tears in their eyes when they came to pick up their kids and saw the amount of school supplies and the quality backpacks they received. [Anna, Director of Boys & Girls Club, East L.A.]
Los Angeles, CA (PRWEB) September 29, 2014
Three hundred members of the Boys & Girls Club in East L.A. started the school year with new backpacks filled with school supplies, thanks to the Buy One | Give One company, Sydney Paige® Inc. The local business is committed to GIVING BACK to the community and supporting education. Working closely together, Boys & Girls Club in East L.A. and Sydney Paige® hosted a fun-filled afternoon, where members readied themselves for the upcoming school year by picking out backpacks, pencil cases, lunch bags, and colorful school supplies, all donated by Sydney Paige®.
The Boys & Girls Club in East L.A. is committed to inspiring and enabling all youth to realize their full potential as responsible, productive, healthy and caring individuals. SYDNEY PAIGE® Inc. is a Buy One | Give One business where for every product sold, another is donated to a student in need in the U.S.. Focusing on giving children the tools to learn and thrive in school, graduate, and become positive members of society, SYDNEY PAIGE® chose The Boys & Girls Club in East L.A. as one of their Giving Partners based on a shared vision of making a difference in the lives of children in the community.
With their quality backpacks, accessories and children's books, SYDNEY PAIGE focuses on the 16 million children in America living in poverty. The business is built on the foundation of education as self-empowerment for a better future. Courtney Brockmeyer, Founder & CEO of Sydney Paige® Inc. says "I feel strongly that education leads to economic freedom and I have a deep passion to help children in underserved areas see possibilities beyond what they are able to experience today."
For more information about SYDNEY PAIGE Inc., the mission, the GIVING BACK philosophy and the cool school gear, visit http://www.sydneypaigeinc.com.