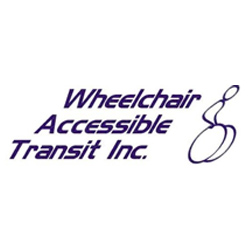 Instead of offering five discounted trips that the company normally does every month, there will be ten promotion trips.
Toronto, ON (PRWEB) September 29, 2014
Every day, across Toronto and throughout all of Ontario, there are people making their way from one destination to another by some form of transportation. Some people are fortunate to have their own transportation, while others need to rely on public transport. For some individuals, journeying from one place to another requires special attention. This is where Wheelchair Accessible Transit shines out of all other transits in Toronto.
For the last decade, Wheelchair Accessible Transit Inc. has provided safe, secure, and reliable transportation throughout Toronto and the Province of Ontario. The company operates a fleet of over 230 vehicles that are never less than two years of age. More than half of these vehicles are wheelchair accessible, accommodating from one to six wheelchairs with a limited number of friends, family, and escorts. The company strives to exceed industry standards by upgrading their services with new vehicles, new packages, and new promotions.
During the months of October and November, Wheelchair Accessible Transit will be running their biggest discount promotion yet for their customers. Instead of offering five discounted trips that the company normally does every month, there will be ten promotion trips. Most of the discounts range from 10% – 20%. The following locations are where each promotional location begins.
Starting with Oakville, you can receive a ten percent discount for a round trip. Originally, a trip like this would cost $140. But, after the discount, it will only cost $126. Maple, Richmondhill, and Markham offer the same discount deal as Oakville. But, a trip to Markham is originally $120. After the discount is applied, customers will only pay $108.
A trip to Newmarket or Ajax originally costs $160. But, Wheelchair Accessible Transit is offering a 15% discount knocking the price down to $136. Woodbridge and Stoufville offer 15% discounts as well. Customers will only pay $136 to travel to Woodbridge, saving $24. They can also expect a $26 savings by traveling to Stoufville by paying $144.
Wheelchair Accessible Transit offers a 20% discount to both Barrie and London. A trip to Barrie originally cost $330. But, after the discount, customers will only pay $264. Traveling to London originally cost $560. But, customers will only pay $448.
By providing more affordable transportation to customers, Wheelchair Accessible Transit is giving its customers more appreciation by providing more service. This is what Wheelchair Accessible Transit stands for, providing special care and gratitude to its customers no matter where the destination may be. There is no other transit company that caters to the elderly or disable like Wheelchair Accessible Transit. No other company offers the discounts around the GTA, Greater Toronto Area, like Wheelchair Accessible Transit either.
The company lives by striving to be one of the best and most compassionate transportation services in the city. That's why the company offers such substantial discounts every month of the year.
For more information on the upcoming promotions Wheelchair Accessible Transit is offering, please visit http://www.wheelchairtransit.com. For immediate assistance, or schedule a pick-up, call
416-884-9898.