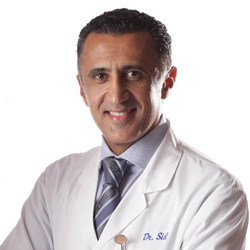 LOS ANGELES, CALIFORNIA (PRWEB) September 29, 2014
Despite its incredible popularity as an anti-aging facial injection, BOTOX® has always had a single quirk — the syringes used to inject BOTOX® have been those used for insulin injections. This required doctors and clinicians to convert the amount of BOTOX® into insulin-like dose units.
But thanks to a Southern California neuromuscular dentist who saw a need, now BOTOX® has its own specifically calibrated syringes. The UniTox® syringe, the invention of Dr. Sid Solomon DDS of Westwood, was introduced at "The Aesthetics Show" in Las Vegas in July of this year. UniTox® is now the only FDA-approved specialty syringe for use with BOTOX®.
"I've always been a very precise, conservative person," Dr. Solomon explains, "so having to make conversions from insulin units to BOTOX® units always felt messy. I use BOTOX® for my neuromuscular dentistry patients to treat headaches, jaw tension, and TMJ (temporo-mandibular joint) disorders, so I wanted a more consistent, BOTOX®-calibrated syringe."
The result was the UniTox® syringe. UniTox® has specific BOTOX® measurements of 5, 10, 15, and 20 units on the syringe exterior, making it basically foolproof to have the correct amount of BOTOX® in every injection. The FDA approved UniTox® in 2013 and it was introduced to market this summer.
Most people know of BOTOX® from its cosmetic uses to address facial wrinkles, lines, and creases. The FDA approved BOTOX® Cosmetic in 2002 for those purposes. But BOTOX® can also treat patients with head tilting, neck pain, and neck spasms; abnormal eyelid spasms; crossed eyes; headaches; muscle stiffness in the elbow, wrist, and finger muscles; even severe underarm sweating. BOTOX® was approved by the FDA in 1989 for those types of uses.
Dr. Solomon is nationally known for his treatment of TMJ, a vexing condition that can cause migraines, headaches, neck and shoulder pain, jaw pain, ringing in the ears, and other problems and is often misdiagnosed by doctors and dentists. He has three offices in Los Angeles — the Center for Cosmetic, Implant & Neuromuscular Dentistry in West Los Angeles, Aesthetic Dental in Thousand Oaks and Dental Wellness in West Hills
For more information visit http://unitox.net/