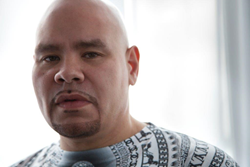 New York, NY (PRWEB) September 28, 2014
Beginning September 30th, Music Choice—the multi-platform video and music network—will feature Fat Joe in Chronicles, its first artist-focused episodic series on its linear TV channel Music Choice Play. Chronicles is a weekly, 30-minute introspective journey that chronicles the lives and careers of today's hottest artists and the steps that ultimately led to their success. The Fat Joe episode premieres nationally Tuesday, September 30th at 8pm ET/PT on Music Choice Play (check local listings). Each episode will become available on Music Choice On Demand following its initial broadcast premiere on Music Choice Play.
Fat Joe takes viewers on an unprecedented journey into his career. Shot on location in NYC, Fat Joe takes viewers to where he grew up in The Bronx and milestone moments including his performance at The Apollo Theatre.
Launched August 26, Chronicles will feature 50 Cent, Jason Derulo, B.o.B., Daddy Yankee, DJ Cassidy, Aloe Blacc and Fat Joe in its first season. For seven consecutive weeks, Chronicles will give viewers unprecedented access and an up-close-and-personal look at some of the biggest names in music as they put themselves on the record and reflect on their journeys to become the artists they are today. Tune in to Music Choice Play on Tuesdays at 8pm ET/PT this fall to discover how B.o.B grew up and the influences that drove him; catch up with 50 Cent as he conducts a master class like discussion about the music business; see why Jason DeRulo can't stop working and much more exclusive content and revealing interviews.
For more information about Music Choice Play, log onto http://play.musicchoice.com/ or to become part of the Music Choice Play community join us on Twitter: @MusicChoicePlay or Facebook.
About Music Choice:
Music Choice, the multi-platform video and music network, delivers its music programming to millions of consumers nationwide through their televisions, online and mobile devices. Music Choice programs dozens of uninterrupted music channels; produces originals that feature today's hottest established and emerging artists; offers thousands of music videos; and launched Music Choice Play, the music video, lifestyle and entertainment network for Millennials. For additional information log on to http://www.MusicChoice.com | Twitter: @MusicChoice | Facebook: http://www.facebook.com/MusicChoice