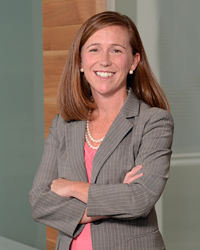 It's important that we encourage students to pursue careers in STEM as they are future leaders across many important industries and disciplines.
New York, NY (PRWEB) September 30, 2014
Turner Construction Company is pleased to announce Lisa Ballantyne, vice president and general manager of the company's offices in Northern California, has been recognized among the Top 100 Diverse Corporate Leaders in STEM by STEMConnector®.
The 100 Leaders in STEM series recognizes senior corporate executives and "rising stars" who have championed science, technology, engineering and mathematics (STEM) education. This year's book salutes and celebrates, in particular, leaders engaged in promoting diversity and mentorship across STEM industries, and highlights the leaders' personal and organizational contributions to the broader conversation about the increasingly key role that STEM education plays in our world.
"Science, technology, engineering and mathematics professionals help create better, more efficient, and more sustainable ways to work, communicate, and live. It's important that we encourage students to pursue careers in STEM as they are future leaders across many important industries and disciplines," said Ballantyne.
100 Diverse Corporate Leaders in STEM is a STEMconnector® publication sponsored by UST Global, Sodexo, Silicon Valley Education Foundation with supporting funding from Apollo Education Group, Cisco, Northwestern Mutual, Tata Consultancy Services (TCS) and Walmart. STEMconnector® partnered with The Executive Leadership Council, Diversity Woman and Bloomberg's BusinessWeek.
About STEMconnector®
STEMconnector® is a consortium of over 110 companies, associations, academic institutions and government entities concerned with STEM education and the future of human capital. With several products and services, STEMconnector® is both a resource and a service, designed to link "all things STEM." STEMconnector's® network includes organizations at the global, national, state and local levels. STEMconnector® focuses on the entire STEM workforce pipeline with a particular emphasis on diversity and women. Our work spans the entire pipeline (Kindergarten to Jobs) and how STEM education experiences translate into careers. For information on how to become a sponsor, contact: Lorena.Fimbres@STEMconnector.org Million Women Mentors (MWM) is an important movement of STEMconnector® and within an 8-month timeframe 171,000 pledges to mentor have been made an 56 partners representing 26 million girls and young women are signed on.
About Turner Construction Company
Turner is a North America-based, international construction services company. Founded in 1902, Turner first made its mark on the industry pioneering the use of steel-reinforced concrete for general building, which enabled the company to deliver safer, stronger, and more efficient buildings to clients. The company continues to embrace emerging technologies and offers an increasingly diverse set of services. With an annual construction volume of $9 billion, Turner is the largest builder in the United States, ranking first in the major market segments of the building construction field, including healthcare, education, sports, commercial, and green building. The firm is a subsidiary of HOCHTIEF, one of the world's leading international construction service providers. For more information please visit http://www.turnerconstruction.com.
About HOCHTIEF
HOCHTIEF is one of the most international construction groups worldwide. The company delivers complex infrastructure projects, in some cases on the basis of concession models. The Group operates in the transportation infrastructure, energy infrastructure and social/urban infrastructure segments as well as in the contract mining business. With nearly 81,000 employees and a sales volume of more than EUR 25 billion in FY 2013, HOCHTIEF is represented in all the world's major markets. With its subsidiary Leighton, the Group is market leader in Australia. In the USA, the biggest construction market in the world, HOCHTIEF is the No. 1 general builder via its subsidiary Turner and, with Group company Flatiron, ranks among the most important players in the field of transportation infrastructure construction. Because of its engagement for sustainability, HOCHTIEF has been listed in the Dow Jones Sustainability Indexes since 2006. Further information is available at http://www.hochtief.com/press.