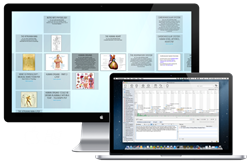 Timestream radically changed and improved the way I organized, filtered, gathered and stored my research.—John Longenecker, recent graduate, University of Pittsburgh Graduate School of Public and International Affairs (GSPIA)
Herndon, VA (PRWEB) September 29, 2014
Ntrepid Corporation announced today a contest for university students currently enrolled for the 2014 fall semester. The "Timestream@edu Academic Contest" allows students to compete for prizes totaling $5000. All they have to do is download Ntrepid's free Timestream software, use it to create an interactive timeline for an assigned project and submit their entry by December 8th. To enter, contestants must be currently enrolled university or college students in the United States.
Ntrepid will select five winners based on topic, articulation, creativity, originality, and how Timestream's features are used to depict the research or study project. The top entry will receive a grand prize of $2000. Two runners up will each receive a prize of $1000, and the following two runners up will each receive a prize of $500. Additionally, all five winners will have their work featured on the Ntrepid website. Winners will be announced by January 31, 2015.
Timestream is an interactive timeline software application that assists in organizing, visualizing and presenting information. One person can run it on a thumb drive, or multiple people can collaborate together by syncing through the Timestream server regardless of whether they use Windows or Mac platforms.
Full contest details can be found at http://www.TimestreamContest.com.
About Ntrepid:
Ntrepid Corporation provides a number of technology solutions that solve operational challenges in the areas of Internet operations, information management, analytics, linguistics, and tracking. Product information is available at http://www.NtrepidCorp.com.