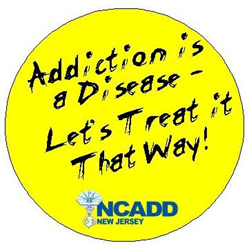 Paterson, New Jersey (PRWEB) September 29, 2014
On Tuesday, September 30, 2014 at 6:00 pm, Eva's Village and the National Council on Alcoholism and Drug Dependence of NJ (NCADD-NJ) will host a Community Listening Forum entitled "Reducing Recidivism and Addiction Stigma." September is National Recovery Month and this forum is providing a platform for local advocates to speak on the important issue of reducing recidivism, reducing stigma and promoting addiction recovery. "Eva's Village is always eager to collaborate with NCADD-NJ, especially concerning issues addressing reducing recidivism and the stigma around alcohol and drug addiction," stated Michael Santillo, administrative director at Eva' Village.
Advocates will share their redemption and recovery stories to a listening panel that will feature New Jersey legislators including: Assemblyman Raj Mukherji, Assemblyman Gordon Johnson, and Assemblyman Thomas Giblin. "NCADD-NJ Advocates have organized more than a dozen of these forums across New Jersey since last year to build a relationship with decision makers with the intention of raising the dialog towards solutions within their communities," states Aaron Kucharski, recovery community organizer & trainer at NCADD-NJ. "Together, the advocates are creating a constituency that is a resource to those making decisions on their behalf. This type of forum is a chance for advocates to have their voices heard, as they are the citizens with the knowledge and experience overcoming addiction."
About NCADD-NJ:
NCADD-NJ is a private nonprofit organization founded in 1982 to advocate on behalf of those affected by drug and alcohol addiction and their families. They are the New Jersey State Affiliate of the National Council on Alcoholism and Drug Dependence. NCADD-New Jersey works in partnership with and on behalf of individuals, families, and communities affected by alcoholism and drug dependence to promote recovery through excellence in prevention and treatment initiatives.
About Eva's Village:
Eva's Village (http://www.evasvillage.org), originally a New Jersey soup kitchen, was founded in 1982 by Msgr. Vincent E. Puma in response to the increasing incidence of homelessness in his Paterson, NJ parish. But Msgr. Puma soon realized that a soup kitchen was not enough. With the generous support of thousands of donors and private and government grants, Eva's has grown to be the most respected anti-poverty program in New Jersey. Their mission is to feed the hungry, shelter the homeless, treat the addicted and provide medical and dental care to the poor with respect for the human dignity of each individual.
For more information on the forum "Reducing Recidivism and Addiction Stigma" at Eva's Village, call The Recovery Center at Eva's Village (973)-754-6784 or email Cindymarie.Cruz(at)evasvillage(dot)org. The forum will take place at The Community Kitchen at Eva's Village at 393 Main Street, Paterson, NJ.