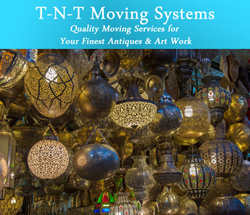 Appraisal values change over time. It's important to have an up-to-date record for every valuable item., Tom Koepke, T-N-T Moving Systems
Charlotte NC (PRWEB) September 28, 2014
Trusting a company with valuables can be a nail biting experience. And what about those items that are irreplaceable? Antiques, fine art, and collectibles are precious items that need special care. T-N-T Moving Systems just upgraded their moving policy to include current appraisals in their client checklist.
T-N-T Moving Systems co-owner Todd Koepke explains, "You see appraisal values change over time so it's important that when we do the initial assessment we confirm that any antique or fine art appraisals are up-to-date." He adds, "People often assume that the appraisal that they had when they bought the item is still valid and that might not be the case. Market value and appraiser affiliations change. If the items are irreplaceable, it's probably best to have them re-appraised prior to moving."
With over 20 years of experience in the moving industry, T-N-T Moving Systems knows a thing or two about moving. "We work with our clients to ensure their valuables are protected during the move," says Todd Koepke, co-owner of T-N-T, "We understand that some items like family heirlooms and antiques need extra attention."
A reputable moving company will always offer basic coverage for items in their care; however, knowing the correct valuation before a move is important. If an item is classified as an antique, a full and correct valuation can help protect the owner if damage does occur. Organizations like the American Society of Appraisers can help clients locate a respectable appraiser (http://www.appraisers.org). Insurance companies, attorneys or a bank official might also have recommendations. For more information on understanding appraisals T-N-T Moving Systems recommends some light reading on the Antiques Roadshow Website. "They are the kings of appraisal and we refer to their information often when clients have complex appraisal questions," says Koepke.
"We move a lot of antiques, even pianos, and always take precautions," says Todd Koepke, "During our initial estimate, we will ask questions about furniture and art to understand which items might need extra padding or crates for protection." T-N-T Moving Systems also offers their license number up front. They encourage customers to check their status on breakage and customer satisfaction with the Better Business Bureau and Department of Transportation. So far, they have a perfect rating!
On the delivery end of each move T-N-T Moving Systems continues to offer a special receipt for valuable items. They also offer uncrating or unwrapping items at the new home and place items where the client designates. "We make sure our clients know that there are usually time limits in making a claim after a move, so if we do have any damage, we encourage them to check all items in timely manner," says Koepke.
Moving is usually cited as one of the most stressful occasions in people's lives. T-N-T Moving Systems hopes to ease that stress a little by providing a trustworthy service. "Above everything, we are a people-based company and want to make sure our clients are happy," says Tom Tulowiecki, co-owner of T-N-T. The entire team at T-N-T goes above and beyond to secure that their clients feel at comfortable through the whole moving process. For more information about T-N-T and their moving service, call them at 704-523-1455 or visit their website at http://www.tntmovingsystems.com.