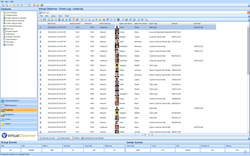 "We are truly excited to continue releasing features which add value for Avaya contact centers"
East Hartford, CT (PRWEB) October 29, 2014
The Virtual Observer Workforce Optimization Solution offers many unique and affordable benefits for the Avaya Contact Center space.
Coordinated Systems, Inc. (CSI), is excited to announce the release of several Avaya-specific innovations which enhance the capabilities of the integrated Virtual Observer Workforce Optimization Solution. Beyond Avaya, Virtual Observer also supports nearly all telephony environments, including hosted and cloud contact center environments,
CSI has always led the way with a recognized array of recording methods for Avaya platforms, including those which work with DMCC: DMCC recording methods: Concurrent Recording, 100% Call Logging, Selective with schedules or business logic, On Demand (Supervisor or Agent), Single Step Conference as well as Multiple Registration, and several non-DMCC methods, including: IP Office, Passive packet-sniffing VoIP, Extension Side, Analog Service Observe and trunkside / T1 loggers.
CSI leverages our Avaya DevConnect technology status to influence our "Avaya CMS Real-Time Reporting Toolbar", which pulls real-time statistics from Avaya CMS into a Virtual Observer dashboard view which is differentiated for the agent, for the supervisor and for a holistic view of the center. Statistics include "Average Hold Time", "# Calls Taken", "Average Talk Time". "Quality Scores", etc. Powerful custom reports can be created using this tool to grab data from the ACD itself and the Virtual Observer database.
Our Avaya-specific "Surveying" release utilizes DMCC methodologies to create a software-only surveying process, allowing users to create a variety of "Voice of the customer" reports based on the survey feedback as well as additional Virtual Observer data.
CSI continues to offer an exclusive "DMCC Discount", which allows for the purchase of Virtual Observer DMCC recording licenses at a reduced rate, a model designed to offset the costs of required Avaya TSAPI and DMCC licensing.
CSI has produced a "SalesForce Connector" which allows customers to integrate their Virtual Observer Workforce Optimization Solution with their SalesForce implementation. The integration can be as simple as a mass list of recordings which can be searched, sorted and played directly from the SalesForce user interface, or a dynamic list linked directly to SalesForce Accounts, Contracts, Cases, Tasks and more.
CSI has also taken several steps forward to create a robust cloud-based solution which operates as a service and is integrated with Avaya-enabled cloud platforms. Workforce Optimization (WFO) as a service is also available for cloud providers and pure cloud contact centers.
"We are truly excited to continue releasing features which add value for Avaya contact centers", said Rich Marcia, Marketing Director for CSI. "Being able to provide a robust, integrated workforce optimization (quality monitoring, speech analytics, workforce management) suite is paramount, and fits seamlessly across the entire array of Avaya platforms while providing a high value to Avaya customers and business partners.
ABOUT COORDINATED SYSTEMS, INC.
Coordinated Systems, Inc., (CSI), enjoying over 40 years in business, has thrived on building high-quality, long-term relationships with customers and partners. CSI's flagship product, Virtual Observer (VO), is a call recording and workforce optimization solution for contact centers. VO supports nearly all telephony platforms. VO provides an extremely high value to price and tremendous customer satisfaction.