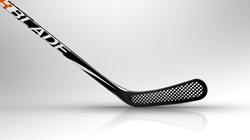 We have developed a stick that is unlike anything ever seen in hockey.
Stoneham, Massachusetts (PRWEB) September 29, 2014
Carbon Sports LLC, developer of hockey stick technology, announced today that it has initiated a Kickstarter campaign to raise funds for production of its patented AirBlade Hockey Stick. The campaign will run throughout the U.S. and Canada, targeting hockey enthusiasts as potential investors (players, parents, league officials, etc.).
Carbon Sports is working through the popular crowdfunding website Kickstarter.com, which is a product of the Federal JOBS Act and provides an opportunity for the general public to support start-up businesses and unique entrepreneurial ideas.
Carbon Sports Chief Operating Officer, Richard Fucillo, stated, "This is an exciting opportunity for anyone interested in hockey and its technological advancement to get involved on the ground floor. Our engineers have developed a stick that is unlike anything ever seen in hockey. With the funding to allow us to enter full manufacturing mode, we expect to be producing custom made AirBlade hockey sticks by early 2015."
Fucillo explained that the AirBlade was designed with a perforated cross-beam pattern, rather than a foam core, with a carbon fiber composite material used in the aerospace and military industries. He is confident that the stick will become the standard in design and engineering. In fact, the company has received testimonials from Mike Eruzione (of the 1980 "Miracle on Ice" USA Olympic hockey team), as well as Ken Hodge Jr., Stanley Cup winner Ken Linseman, and Craig Janney (who collectively have more than 30 years in the NHL), among other NCAA and prep school players.
About Carbon Sports LLC
Based in Stoneham, Massachusetts, Carbon Sports was founded to develop a new hockey stick that would solve the challenges faced by players using traditional carbon composite sticks. The company's team of engineers, scientists, and athletes collectively has over 60 years of hockey and technological experience.
About Kickstarter
Kickstarter is a U.S.-based global crowdfunding platform with a mission to help bring creative projects to life. Since its launch in 2009, Kickstarter has reportedly received over $1 billion in pledges from 7 million donors to fund 69,000 projects, including films, music, video games, food-related projects, and technology. Backers are offered tangible rewards in exchange for their pledges, a model that traces its roots to the subscription method of arts patronage.
Find us on facebook and twitter!
Get a customized AirBlade on Kickstarter!