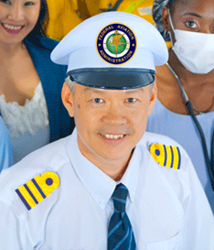 Dr. Rodas will be practicing out of Healthpointe's newly incorporated LAX-based clinic.
La Mirada, CA (PRWEB) September 29, 2014
Healthpointe, one of southern California's leading health care providers, has announced Dr. Anthony G. Rodas as its newest, Federal Aviation Administration (FAA) certified physician.
Dr. Rodas will be practicing out of Healthpointe's newly incorporated LAX-based clinic. In addition to being FAA certified, Dr. Rodas is also accredited in forensic medicine, internal medicine, and occupational medicine. Formerly the Medical Director of Raytheon, the world-class defense and aerospace company, Dr. Rodas will now be offering second and third class FAA exams for commercial pilots and students.
Healthpointe's physicians can help patients obtain their physical aviation certificates. Healthpointe's expert team of medical providers is ready to treat any medical condition that could prevent someone from passing their exam. Fledging pilots seeking to navigate airplanes, helicopters, gyroplanes, or airships are required to complete their FAA-certified medical examinations prior to partaking in any form of flight training.
For more information on Healthpointe's FAA exams, please schedule an appointment through http://www.HealthpointeMD.net or call (800) 956-2663.
About Healthpointe:
Healthpointe is a leading multidisciplinary healthcare organization offering a full range of medical services in practice locations throughout Southern California (Los Angeles, Orange, San Bernardino and Riverside counties). As a highly regarded musculoskeletal group, we have a personal investment in the highest level of service, and we are proud of our record of excellence over the last four decades with private patients, injured workers, urgent care, personal injuries, and professional and non-professional athletes. Leading our organization is a dynamic team of healthcare professionals who continually strive to be at the forefront of medical innovation and healthcare service delivery. For more information, a complete list of services, and Healthpointe locations, visit http://www.Healthpointemd.net.