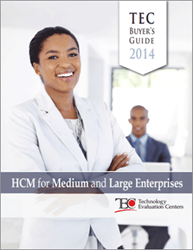 'With the right people and technology, it's possible for every employee to fulfill their potential to impact overall business outcomes.' - TEC HCM Analyst, Raluca Druta
Montreal, Quebec (PRWEB) September 30, 2014
Most human resources (HR) professionals would agree—a company's workforce is the key to adapting, evolving, and keeping up with today's ever-changing, highly competitive marketplace. And many HR professionals are at the moment gearing up for the annual HR Technology Conference & Exposition—the world's largest expo of HR technology products and services—to find out what innovations technology providers will unveil to help them fulfill their initiatives. Attendees should be packing their bags with TEC's latest buyer's guide on human capital management (HCM) as it not only covers the factors to consider in HR technology investments but also discusses best practices with regards to leadership, talent, and learning management.
Effective HCM starts with the strategy and best practices that form the internal corporate culture; once a culture is established, HR professionals can leverage various HR technologies to further cultivate and facilitate the environment that supports their vision. For example, one of HR's goals is to ensure continuity of a company's leadership, as it influences the tone of employee behavior, response to day-to-day activities, and expectations, and the available technologies can help leaders to develop and enhance a can-do company culture.
A major factor to consider with regards to HCM technology is whether to invest in a full suite or a best-of-breed solution. The TEC buyer's guide covers the core HR functionality that every organization needs as a foundation. But specific initiatives that involve more advanced HR practices, such as talent and learning management, are also factors in determining what type of solution fits best. This guide is designed to inform HR professionals about the technology that is available, and help them decide what software satisfies their unique business requirements.
The buyer's guide establishes best practices when it comes to talent management— how, with the right people and technology, it's possible for every employee to fulfill their potential to impact overall business outcomes and how a knowledgeable workforce can be maintained and nurtured, even during tough economic times.
The TEC 2014 HCM Buyer's Guide includes special sections on leadership models in today's world, organization-wide talent management practices, and the role of enterprise learning in a company's growth, with a strong focus on the "human" side of human capital management.
The guide also gives an overview of key features of leading solutions along with customer success stories from the likes of Cezanne, Cornerstone OnDemand, FinancialForce.com, iCIMS, IBM, Meta4, SAP, Skillsoft, SuccessFactors, and Taleo. To download a free copy, visit: http://www.technologyevaluation.com/research/TEC-buyers-guide/TEC-2014-HCM-Buyer-s-Guide-for-Medium-and-Large-Enterprises.html
For more information on TEC's software advisory and selection services, contact +1 514-954-3665, extension 404, or e-mail selectionservices(at)technologyevaluation(dot)com.
About Technology Evaluation Centers Inc. (TEC)
Technology Evaluation Centers (TEC) is a software advisory firm helping private and public sector organizations around the world make informed enterprise software decisions—saving time, money, and heartache. The online Evaluation Centers, containing IT research and extensive software models that catalog vendors' support for thousands of enterprise software features and functions, are the leading resources for IT decision makers around the world. By combining the online evaluation centers and providing onsite personalized advisory services, TEC has developed its offerings and solidified its unique position operating in the cross-section of the software consulting, analyst, and research markets.