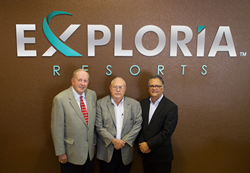 Club Exploria will truly change the way we market, sell and service our vacation ownership product into the future" shared Juan Barillas, Executive Vice President, Exploria Resorts.
Orlando, Florida (PRWEB) September 30, 2014
"This new vacation club will truly change the way we market, sell and service our product into the future" shared Barillas. "Club Exploria provides members direct access to a growing portfolio of resort destinations numbering more than 25 at the time of launch with an additional 4000+ offered through our worldwide exchange partner, RCI". At the heart of Club Exploria is the EXPO, the multidimensional currency of Club Exploria". As Barillas explained, "EXPOs provide our Club Exploria members with unparalleled flexibility – flexibility to rival any vacation club available in today's marketplace."
Paul Caldwell, President & CEO of Exploria Resorts added, "Timeshare has certainly evolved over the years from the Right to Use and Deeded Fixed Weeks era in the mid-60's and 70's, to the Deeded Floating Weeks product in the 90's, to the introduction of Points and the Branded Clubs in the early 2000's." "With the introduction of Club Exploria and EXPOs, Exploria Resorts is revolutionizing the way consumers will vacation. By design, Club Exploria provides the most
vacation flexibility throughout the ever changing life cycle of today's consumer. We are thrilled to bring this product to market and do what we love to do – bring families together to make vacation memories. It just doesn't get any better than that!"
Club Exploria members will use their EXPOs for resort stays at resort and hotel destinations
throughout the world, in addition to other vacation and travel related benefits including car
rentals, cruises, airline tickets, local attractions, excursions, golf, shopping, gift cards and other
benefits.
The launch of Club Exploria follows the recent acquisition of two Florida beachfront resorts:
Ocean Sands Resort, located in New Smyrna Beach, acquired in August and Grand Seas
Resort, located in Daytona Beach, acquired earlier this month. "The acquisition of these two
resorts satisfies the strategic goal of adding a Florida beachfront resort destination to
the portfolio and has provided a spark to fuel our growing business model" stated Santiago
Creus, Director, Business Development. He continued, "These two acquisitions provide a direct synergy with the Exploria Resorts flagship property, Summer Bay Orlando and will provide our Sales Division with a presence directly on the beach". Through these two Florida beachfront resort acquisitions, over 50 employees have been welcomed into the Exploria Resorts ONE TEAM, now numbering nearly 700 employees.
About Exploria Resorts
The Exploria Resorts brand was created as an evolution of Summer Bay Resorts, building upon more than 20 years of proven success as a diversified hospitality, development and management company which has operated marketing and sales operations to support the
collection of resorts and hotels in Florida, Tennessee, and Missouri. The Exploria Resorts flagship property, Summer Bay Orlando in Orlando, FL, located in the Walt Disney World® Resort area, was established in 1995 by St. Louis, Missouri-based developers Joe and Loretta Scott Sr. The 350+ acre property situated on an 80-acre spring-fed lake includes 525 villa and condo floor plans and 27 individual homes.
For more information about Exploria Resorts and Club Exploria, visit http://www.exploriaresorts.com.