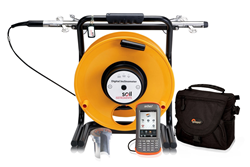 Juniper Systems are excited to partner with Soil Instruments. The rugged Archer 2 handheld computer pairs beautifully with the Digital Inclinometers, providing an advanced solution for geotechnical monitoring.
Birmingham and East Sussex, United Kingdom (PRWEB UK) 1 October 2014
Soil Instruments Limited has partnered with Juniper Systems Limited to provide a superior geotechnical monitoring system using rugged computers and geotechnical engineering instrumentation to improve field activities in the structural and earthworks industry.
Pairing Juniper Systems' Archer 2 rugged field computer with Soil Instruments' Digital Inclinometer Systems provides field engineers with a truly robust measuring and data collection system.
Soil Instruments' Digital Bluetooth® Inclinometer Systems are now exclusively using Juniper Systems' Archer 2 rugged computer, which provides superior readings and data capture. Soil Instruments' inclinometers are specially-designed instruments that provide high accuracy and resolution measurement for the monitoring of structural and earth deformations, movements or settlement.
"We are excited to partner with Soil Instruments to provide this advanced solution for geotechnical monitoring", said Simon Bowe, general manager of Juniper Systems Limited. "The rugged Archer 2 handheld computer pairs beautifully with Soil Instruments' Digital Inclinometers, providing more accurate readings and data capture than could ever be achieved previously in this industry".
Juniper Systems' Archer 2 rugged computer is connected to the inclinometer system via Bluetooth® wireless technology. Within the borehole an angular reading is produced by the engineer via the Read button on the Archer 2 screen, which triggers the inclinometer sensors to take the reading.
Those readings are then instantly transmitted via the Bluetooth connection to the Archer 2, captured on-screen and saved in the Archer 2's database, to be reviewed for accuracy or other needed data measurements. Long days of field work remain productive because of the 512MB of RAM and 8GB of flash storage in the Archer 2.
Data can also be transmitted back to base quickly and accurately via the 3.75G modem in the Archer 2, an action which many other inclinometers cannot complete. At the end of the day, data can be downloaded or transmitted for subsequent comparison against all previous borehole runs, allowing analysis of lateral ground movements over time.
"Soil Instruments has found the perfect field computer to match with our Digital Inclinometer Systems", said Mike Ziolek, sales and marketing director for Soil Instruments. "The Archer 2 really gives our customers an edge by providing field readings more quickly and clearly than any other inclinometer system".
The physical features of the Archer 2 and the Inclinometer Systems are highly compatible. The Archer 2's IllumiView™ high-visibility display is extra large, incredibly bright, and overpowers glaring sunlight. The backlit LCD easily adjusts to either portrait or landscape orientation, and is glove-friendly and extremely scratch-resistant.
The Archer 2 has ultra-rugged construction with IP68 protection against water and dust, and is shockproof against multiple drops. The intelligent Li-ion battery can operate up to 20 hours on one charge and is hot-swappable in the field. The high-sensitivity GPS/GLONASS/SBAS receiver is highly useful for field work.
The ruggedness of the Archer 2 compliments the secure connections on Soil Instruments' Inclinometer Systems. The inclinometer probes are mounted to a cable using an advanced waterproof moulding compound, which eliminates field connectors. This means that no on-site connectors get broken or contaminated while working in the field.
Juniper Systems Limited will be demonstrating its superior, rugged handheld computers at InterGEO at Messe Berlin, Germany, from 7 through 9 October, in Hall 2.1 on Stand A2.039.
About Juniper Systems Limited
Founded in 1993, Juniper Systems has become a world leader in the design and manufacture of ultra-rugged handheld computers and intuitive field computing solutions. Based out of Utah, USA, and Birmingham, UK, Juniper Systems computers are built for use in extreme environments by the geomatics and field engineering industries, among others. Juniper Systems Limited are located at 1st Floor, 4 The Courtyard, Buntsford Gate, Bromsgrove, B60 3DJ, United Kingdom http://www.junipersys.com.
About Soil Instruments Limited
Soil Instruments Limited is a world leader in the design, manufacture and installation of premium-quality, geotechnical and structural monitoring instrumentation. Its products are built to an accredited, quality control system and designed to withstand extreme environments. For more than 50 years, Soil Instruments have played critical roles in major construction projects worldwide. Soil Instruments are located at Bell Lane, Uckfield, East Sussex, TN22 1QL, United Kingdom http://www.itmsoil.com.
###