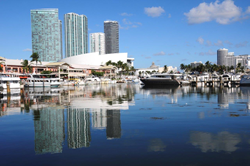 Panama City Beach, FL (PRWEB) September 29, 2014
SWS Environmental Services (SWSES), a leading environmental services company with locations along the Gulf of Mexico and Atlantic coastlines, as well as other inland waterways, is poised to help marinas, boatyards, boat manufacturers, and other marine related facilities achieve their "Clean" designation.
Many boaters who travel up and down the coastlines of the United States and Mexico look for places where they will feel at home. They spend weeks or months away from home traveling and living aboard their vessel. Frequent stops at marinas along the way are common. The desire to utilize facilities that are making efforts to be environmentally responsible is important to many of them and makes them feel at home.
Clean waterways and other boating sites include more than just marinas. Boatyards and retailers also work hand-in-hand with marinas to create a cleaner, more environmentally friendly atmosphere for boaters and the general public who take part in any activities around major waterways and bodies of water.
The Florida Department of Environmental Protection website notes, "The Florida Clean Marina Programs are designed to bring awareness to marine facilities and boaters regarding environmentally friendly practices intended to protect and preserve Florida's natural environment. Marinas, boatyards and marine retailers receive clean designations by demonstrating a commitment to implementing and maintaining a host of best management practices."
The following list illustrates a number of ways marinas, boatyards and retailers can begin working towards becoming a more environmentally responsible company:
1. Emergency Action Plan
2. Hurricane Preparedness
3. Fueling Safety
4. Waste Management
5. Fire Safety
6. Recycling
7. Proper Boat Cleaning
8. Proper Boat Maintenance and Painting
9. Sewage/Gray Water Management
10. Manage Fish Waste
While the Clean Marina Program is a non-regulatory program, much of what marinas and boatyards do in maintaining their facilities does include regulatory compliance. These locations are setting themselves apart as a more environmentally responsible organization by taking the extra steps.
SWSES works with marinas throughout the Gulf and Atlantic Coastline and major inland waterways such as the Mississippi River when needed to maintain regulatory compliance standards. In these areas, boaters, known as "loopers", often target environmentally responsible locations as their stopping point. They chose these locations because of the clean facilities, top-level service and worry free accommodations.
About SWS:
SWS is one of the largest, most diverse, and strategically positioned environmental services companies in the United States. Currently operating from 29 locations across Alabama, Florida, Georgia, Kentucky, Louisiana, North Carolina, Ohio, Tennessee, and Texas, our service centers are equipped and ready to respond 24 hours a day, 7 days a week. Whether it's an emergency spill response, industrial services need, hazardous or non-hazardous waste issue, or complex remediation project, contact us at the location nearest you. 24-Hour Emergency Response: 877.742.4215