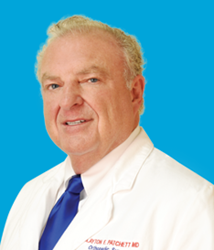 Dr. Patchett has consistently been ranked as one of Pasadena's Top Doctors
La Mirada, CA (PRWEB) September 29, 2014
Healthpointe Medical Group, a multidisciplinary medical provider in Southern California, presents its resident orthopedic surgeon and physiatrist Dr. Clayton Eugene Patchett MD. Dr. Patchett is currently practicing out of Healthpointe's Irwindale, Ontario, and Colton clinics.
Having been practicing for over three decades, Dr. Patchett has placed special emphasis on orthopedics and physiatry. The field of orthopedics utilizes both surgical and non-surgical techniques to treat and alleviate musculoskeletal conditions caused by sports injuries, trauma, infections, and degenerative disorders. As a board-certified and fellowship trained orthopedic surgeon, Dr. Patchett has consistently been ranked as one of Pasadena's Top Doctors. Among Dr. Patchett's many accolades he was the 134th President of the Los Angeles County Medical Society, and has been a Board Member and Delegation Officer to the CMA at LACMA.
Physiatry, also known as physical or rehabilitation medicine, focuses on restoring functional abilities through physical therapy and medications. Dr. Patchett utilizes advanced techniques in order to optimize a patient's quality of life so that they may maintain a positive lifestyle even through disabling impairments.
Dr. Patchett performs several medical procedures including, but not limited to: carpal tunnel release, rotator cuff surgery, trigger point injections, and hip fracture and dislocation treatment. Additionally, Dr. Patchett has also treated countless conditions such as: scoliosis, osteoarthritis, bursitis, and Intervertebral Disc Herniations.
For more information on Dr. Patchett, orthopedics, or physiatry, please call Healthpointe at (844) 887-7882.
About Healthpointe:
Healthpointe is a leading multidisciplinary healthcare organization offering a full range of medical services in practice locations throughout Southern California (Los Angeles, Orange, San Bernardino and Riverside counties). As a highly regarded musculoskeletal group, we have a personal investment in the highest level of service, and we are proud of our record of excellence over the last four decades with private patients, injured workers, urgent care, personal injuries, and professional and non-professional athletes. Leading our organization is a dynamic team of healthcare professionals who continually strive to be at the forefront of medical innovation and healthcare service delivery. For more information, a complete list of services, and Healthpointe locations, visit http://www.Healthpointemd.net.