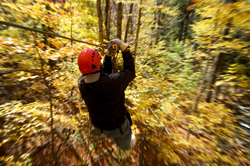 Autumn in Tennessee is the perfect time to be active outdoors. A trip to Fall Creek Falls State Park and ZIPStream's aerial adventure park is the perfect way to take leaf peeping to new heights.
Pikeville, Tennessee (PRWEB) September 29, 2014
To celebrate the end of sultry summer days as they transition to the chilly weeks of winter, Mother Nature puts on a show. Autumn brings the flash of vibrant, warm colors to the trees and following in their wake are the flocks of camera-toting admirers that are synonymous with Leaf Peeping Season. While everyone else is looking up at the oranges, reds, and yellows, in Tennessee's Fall Creek Falls State Park, visitors have the unique opportunity to look not only up, but through, out, or even down on the seasonal splendor from high in the forest canopy on an aerial leaf-peeping adventure operated by ZIPStream Fall Creek Falls.
ZIPStream Fall Creek Falls is the exciting, new, independently-operated aerial adventure park located inside of Fall Creek Falls State Park, Tennessee's largest and most visited state park. Offering tours on weekends throughout the autumn, ZIPStream Fall Creek Falls provides a fresh perspective and a different medium for admiring the fall foliage. Participants test their balance and agility as they navigate a series of more than 70 challenge obstacles set among a bluff of stately oaks overlooking a lake in the center of the park. A canopy of color is the backdrop to an active exploration at new heights, traversing wobbly bridges, balance beams, ladders, cargo nets, zip lines, leaps and climbs.
The Upper Cumberland Plateau offers many opportunities to take in the changing leaves. A drive or bike ride along windy, tree-lined roads can be a relaxing escape. Foliage enthusiasts can get off the beaten track by hiking to scenic vistas of water falls, cascades, and canyons inaccessible by car, or simply wandering through the woods. But for those looking for a leaf-peeping opportunity that is a little more adventurous, ZIPStream Fall Creek Falls takes your feet off the ground and puts you up in the canopy in a challenge adventure unlike any other.
The aerial adventure course begins with an introduction and gear-up. Participants are outfitted with full-body harnesses, helmets, lanyards, and a zip line trolley. Then it's off to Ground School where participants receive a thorough introduction to the course and how to properly use their SmartSnap, a modern belay device which ensures 100% connectivity to the galvanized steel cables which hang above each element and protect participants from a fall. From there, participants are provided the opportunity to take on six routes, each with 8 to 13 elements, ranging from easy to challenging. Certified guides are positioned throughout the course area to provide encouragement, support, and helpful hints as needed.
All ages can take in the views and the obstacles of the aerial adventure park. Routes ranging from easy to challenging are available for leaf-peepers and adventure-seekers from age 4 through to active seniors. Fall means back to schools for the kids, but weekends are perfect for some family fun time in the foliage. ZIPStream's aerial adventures combine scenery and skills, both mental and physical, and make for excellent conversation topics on Monday, be it on the playground, around the water cooler, or at book club. Braving new heights and facing obstacles together can be a great bonding experience for friends and family alike.
Autumn in Tennessee is the perfect time to be active outdoors. Milder temperatures tempt many out into the rainbow of natural hues on display. With the oppressive summer heat cooling off to balmy seventies, there's no better time to head out and explore the treetops. The aerial adventure park at ZIPStream Fall Creek Falls provides the opportunity to admire the varieties of colors and shapes of leaves in transition up close, experience the fresh air rush past from the middle of a zip line, and feel the sturdy oak supporting, surrounding, and becoming part of the unique elements that bridge new pathways through the forest.
Get out and celebrate the color spectacle in Tennessee this autumn from a whole new perspective. Book your active leaf-peeping aerial adventure today by calling ZIPStream Fall Creek Falls at (615) 499-5779 or visiting http://www.ZIPStreamFallCreekFalls.com. Reservations are recommended. For accommodations at Fall Creek Falls Inn or the campgrounds at Fall Creek Falls State Park, visit http://www.tnstateparks.com/parks/about/fall-creek-falls or call (423) 881-5298.
About ZIPStream Fall Creek Falls
ZIPStream Fall Creek Falls is an independently-operated aerial adventure park located in Fall Creek Falls State Park and the first in a series of planned parks to be opened by ArborTrek/ZIPStream, LLC. ArborTrek/ZIPStream, LLC provides established tour operators, resorts, parks, museums, zoos, and land owners near tourist destinations or densely populated areas the opportunity to enter the emerging zip line canopy tour and aerial adventure park market with the management experience and financial backing necessary to be successful. In exchange for a long-term lease, the company provides the necessary start-up and working capital to build and operate the course. In the addition to visitor draw, land owners receive a generous share of the tour revenue. Inquiries should be directed to company president, Michael Smith, at (248) 481-2568.