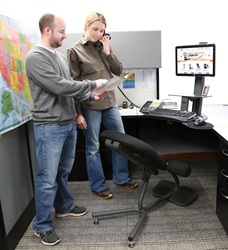 We have seen the sale of our sit to stand products double in a single year.
Burnsville MN (PRWEB) September 28, 2014
HealthPostures, a global leader in the ergonomics market, confronts the growing organizational and consumer demand for sit to stand work products. Sales of the products have doubled, even quadrupled, for some ergonomics companies and furniture makers. David Watkins, HealthPostures' Sales and Marketing manager shares that, "We have seen the sale of our sit to stand products double in a single year."
These increased sales along with mounting evidence that sitting all day could shorten a worker's life span has fueled the need for the ergonomics leader to not only develop more sit to stand solutions, but to expand its distribution channels. To meet the demand, HealthPostures has started planning to enhance the design of the company's Stance Angle Chair.
The company expects to market the redesigned Stance Angle Chair in 2015. HealthPostures is also expanding its team of resellers, bringing in resellers from areas like Anchorage, Alaska; Garland, Texas; Wichita, Kansas; Atlanta, Georgia and Seattle, Washington. It is through resellers that the ergonomics company reduces the time it takes for buyers to get sit/stand solutions in hand, an area that has presented challenges for some ergonomics manufacturers.
Although stand desks have existed for centuries, technology, combined with the long hours people spend at workstations, has significantly altered the product designs. Major differences between today's sit to stand products and stand desks that were used a century ago are features like computer monitor stands, keyboards, exercise equipment and adjustable screens and chairs. Adjustable chairs and sleek ergonomic design also support good posture.
The fact that sit to stand solutions naturalize good sitting posture has seen sales of the products boom. So too is news that using the products could reduce or eliminate neck and back pain as well as extend a worker's lifespan. According to the American Medical Association, it cost approximately $86 billion is spent each year to treat back and neck pain. As the New York Times reports, "If you cut the time you spend parked behind your desk daily . . . you may extend your life up to three years." Dr. Toni Yancey, health services professor at the University of California, says that, "The science is still evolving, but we believe that sitting is harmful in itself."
'At HealthPostures, we have discovered that the demand for sit tostand solutions is also growing, in part, because the products increase workers' energy, help burn calories, reduce neck pain and help workers to be more productive,' executives at HealthPostures said. Specific sit/stand solutions the company sells include the 6300 TaskMate Go, 6400 TaskMate EZ and the 6100 TaskMate Executive. When asked why their sit/stand product sales have doubled over the previous year, HealthPostures' executives shared that, 'Ease of use and improved energy at work provided by the products have contributed to our increased sales.'
The executives continued, "For example, with the 6300 TaskMate Go, you can effortlessly move from a sitting position to a standing position improving productivity and comfort and have the freedom to move whenever you like." Keeping pace with the demand has not yet proved challenging, thanks to an increase in the number of resellers and dealers contracting with HealthPostures. In addition to monitoring requests for sit to stand solutions from private clients, HealthPostures continues to monitor requests received from government and healthcare organizations. Major corporations who have already purchased sit to stand solutions include Chevron, Google, Apple, Boeing and Allstate.
About HealthPostures
HealthPostures LLC (https://healthpostures.com) builds rehabilitative and ergonomic equipment that helps people to stay healthy while they work. The firm has been designing and manufacturing ergonomic sit stand solutions since 1996. Part of the company's mission is to "strive to provide quality products that will help transform your sedentary life so you have a healthy way to work." Office solutions sit stand products Health Postures designs and manufactures include dual monitor sit stand work stations, adjustable mouse stands, dual monitor arm accessories, Stance move seat extensions, industrial surface Taskmates and Stance Move chairs.
Contact:
HealthPostures LLC
14310 Ewing Avenue South, Suite 100
Burnsville, MN 55306
800-277-1841
https://healthpostures.com
Sources:
http://www.pnj.com/story/opinion/contributors/2014/09/06/viewpoint-back-neck-pain-can-costly/15196449/
http://www.nytimes.com/2012/12/02/business/stand-up-desks-gaining-favor-in-the-workplace.html?_r=0
http://www.forbes.com/sites/katetaylor/2012/08/02/can-standing-desks-fight-sitting-disease/