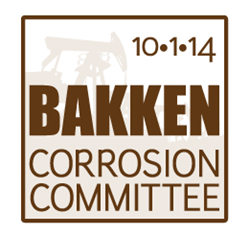 The Bakken Corrosion Committee will play a critical role in helping to ensure public safety.
Williston, ND (PRWEB) September 26, 2014
The Bakken Corrosion Committee, a group of corrosion industry professionals in the Bakken shale region have announced speakers and topics for the group's meeting on October 1. The meeting takes place from 10:00 am to 2:00 pm on October 1, 2014 at the Grand Williston Hotel located at 3601 2nd Avenue West, Williston, North Dakota. There is no fee for this event and lunch will be served. Anyone interested in attending or receiving updates about future meetings is asked to register HERE.
Discussion and presentation topics include:

NACE Big Sky Section and their role in supporting the corrosion needs of North Dakota
North Dakota corrosion community needs and concerns
Linear Anodes – Aaron Schiflett, Seal for Life
Indirect Pipeline Inspection Tools – Josh Brewer, Integrity Solutions
Deep Anode System Design – Ted Huck, MATCOR, Inc.
Event Sponsors Include:

GC Products
Seal For Life
CP Masters
WBI Energy Services
Statoil
MATCOR
NACE Big Sky Section
About the Bakken Corrosion Committee
The new corrosion committee will bring together Bakken shale region corrosion professionals and pipeline operators on a regular basis to share information on best practices, coordinate cathodic protection system installation information and take steps to prevent cathodic interference.
Cathodic Interference is a major concern for operators. Cathodic protection current that strays from its intended path onto another operator's pipeline can cause significant interference corrosion issues, including rapid induced corrosion and pipeline failures in extreme cases. The new corrosion committee will enable operators to share cathodic protection information and coordinate system changes and additions, making it much easier for neighboring pipeline owners to ensure the integrity of their pipelines and coordinate proper testing and preventive measures. With the continued expansion of pipeline gathering systems in the Bakken region, interference concerns will remain a risk best addressed through sharing of information and cooperation among pipeline operators and corrosion professionals.
"Organizations like the newly formed Bakken Corrosion Committee are common in other parts of the country and play a critical role in helping to ensure public safety," said Ted Huck, Vice President of MATCOR, Inc., a Pennsylvania based cathodic protection and corrosion engineering company with operations in North Dakota.
Questions regarding the new Bakken Corrosion Committee can be directed to Ted Huck at 267-759-3605 or thuck(at)matcor(dot)com.