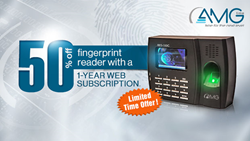 Tony Galstyan, CEO of AMG Employee Management, proudly stated "This special offer will help our customers to explore the amazing world of biometric technologies at a very affordable price."
Los Angeles, CA (PRWEB) September 27, 2014
Tweet this: @AMGTime is presenting an array of one-time #SpecialOffers
AMG Employee Management, a respected time and attendance industry leader, is spreading holiday cheer early this year with exclusive monthly discounts on their top performing, high-quality time and attendance systems and employee management solution programs. From small companies to large corporations, AMG's time and attendance systems are fully equipped to offer much needed solutions to daily time, attendance, and payroll challenges – at a mere fraction of the cost.
Starting this month, AMG is presenting an array of one-time, special offers, beginning with an introductory 50% discount on their AMG-100C model when purchased with a one year web subscription. Slashing prices like never before, AMG is offering this aforementioned discount exclusively from September 23rd through October 7th, providing customers with a rare opportunity to secure their attendance software and systems at an alluring, discounted price.
Tony Galstyan, CEO of AMG Employee Management, proudly stated "This special offer will help our customers to explore the amazing world of biometric technologies at a very affordable price."
AMG is dedicated to the time and attendance success of their customers; therefore, each month through December, they will unveil a new special offer to the public, which will showcase a different aspect of their time and attendance offerings. From software to biometrics, AMG offers the entire spectrum of innovative time and attendance systems, which can be customized to fit any business's attendance needs and payroll requirements. AMG is committed to bringing a value-based offering to their customers each month, from now through the end of 2014.
This limited time offer is available to all customers, regardless of company size or geographical location. AMG is bringing never before seen discounts to the table this holiday season. Current offer is available today.
About AMG Employee Management
With over 20 years of industry experience, AMG Employee Management Inc. is a national leader in time attendance products, software, and services. This innovative Los Angeles company has a passion for providing employers with time attendance systems that boost the accuracy of time and payroll records. Built upon a commitment to customization, AMG Employee Management will design the time employee management system that is perfect for any size business.
For more information about the company, please visit:
http://www.amgtime.com
For more information about this incredible offer, please contact Jared Crenshaw:
(323) 254 – 7448 or jared(at)amgtime(dot)com