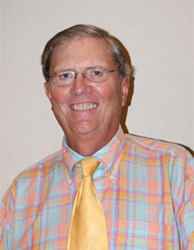 Fairfax, VA (PRWEB) September 26, 2014
All Fairfax, VA patients in need of tooth replacement procedures are welcome to learn more about implant supported dentures during Self-Improvement Month this September by scheduling an appointment with Dr. Alexander Withers. The All-on-4™ procedure is quicker and less invasive than traditional dental implants and is the ideal solution for patients who are not good candidates for traditional implants due to excessive bone loss.
When teeth are lost due to genetics, old age, accident, or disease, it does not take long for the jaw bone in the area to begin to deteriorate. The longer an empty socket is left without tooth replacement, the more time the bone has to become weak and lose volume. Some patients may already have low bone density due to genetics or age-related conditions, and it may be impossible for these patients to receive traditional dental implant surgery. The All-on-4™ procedure provides the perfect solution for individuals who do not qualify for traditional dental implants, or who would rather receive implant supported dentures than be subjected to more invasive forms of dental surgery.
During the All-on-4™ procedure, only four dental implants are placed within the mouth, and these implants are utilized to support a new set of teeth. The placement of the four dental implants is strategically chosen in order to offer the greatest amount of structural support to the dentures that will be placed on top of them. Once the implants are placed within the jaw, a working set of temporary teeth is immediately applied so that the patient does not experience any loss of dental function while the gums and bone heal around the implants.
Once the implants are integrated into the bone, the patient is then able to receive their final set of new teeth. The new teeth are made with high-quality materials that are designed to last a lifetime and to function in exactly the same way as natural teeth. Patients who want to find out if they are good candidates for implant supported dentures are encouraged to call Dr. Withers and schedule an appointment for tooth replacement in Fairfax, VA during Self-Improvement Month.
About The Doctor
Dr. J. Alexander Withers Periodontics and Implant Dentistry is a periodontal practice offering professional dental care for patients in Northern Virginia. Dr. Withers received a Bachelor's Degree in Biology, and earned his D.D.S. degree from The Medical College of Virginia. Dr. Withers has been named in the Top Dentists by the Washington Magazine, Checkbook Magazine and Consumer Research Council of America and Northern Virginia Magazine. To learn more about Dr. J. Alexander Withers Periodontics and Implant Dentistry and their dental services visit their website at http://www.withersperio.com/ or call (703) 997-4211.