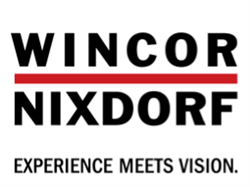 Austin, Texas (PRWEB) September 29, 2014
Wincor Nixdorf, the world's leading provider of comprehensive IT solutions in banking and retail, announced today it has been ranked tenth in the IDC Financial Insights 2014 FinTech Ratings. The ranking is an annual Fortune 500-style international listing of the top technology companies that drive more than one-third of their revenue from the financial services industry.
"Wincor Nixdorf is proud to have achieved this ranking because it evidences the success of our innovative, service-oriented approach in providing hardware and software solutions to help our clients in the banking industry meet today's technological challenges," said Javier López-Bartolomé, Senior Vice President, Region Americas, and Wincor Nixdorf USA President and CEO.
Wincor Nixdorf attributes its top-ten ranking to a number of factors, including the comprehensiveness of its portfolio, which includes hardware, software and professional services for banks and ATM fleet owners. The company has seen its business with retail banks grow steadily, thanks in large part to its wide range of products and services designed to help customers capitalize on the transformation currently underway in the banking industry.
"Appearing on the IDC Financial Insights FinTech Rankings, a global measure of success in the financial services technology industry, represents a position of strength and influence in the market," said Jerry Silva, Director of Global Banking Research for IDC Financial Insights. "We congratulate this year's Top 100 FinTech companies and the Top 25 Enterprise companies for demonstrating their success in the industry and commitment to their customers."
http://www.idc.com/prodserv/insights/financial/ps/fintech/index.html
###
About Wincor Nixdorf
Wincor Nixdorf is one of the world's most successful IT solution specialists for process optimization at the consumer touch-point, covering its core industries of banking and retail. With its U.S. headquarters located in Austin, Texas, Wincor Nixdorf Inc. provides a broad range of innovative hardware and software solutions, complemented by high-end services to many of the world's biggest and most well-known business organizations, raising the overall efficiency of procedures and workflow to improve consumer engagement and reduce operational costs. Wincor Nixdorf has a presence in more than 130 countries and annual sales revenue of approximately $3 billion. For more information, visit http://www.wincor-nixdorf.com/usa.
Contact: Todd Keefe, 617-262-1968, tkeefe(at)crosswindpr(dot)com