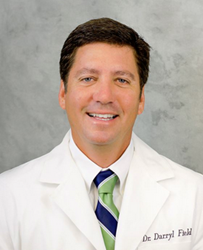 Jacksonville, FL (PRWEB) September 26, 2014
September is known as Self-Improvement Month and Dr. Darryl A. Field wants patients struggling with the effects of missing teeth in Jacksonville, FL to make it their personal self-improvement month. Dr. Field proudly offers a procedure called All-on-4™ dental implants that essentially places a fixed or removable denture on top of four implant posts to restore smiles to people who may not be able to accept traditional implants yet want the functionality and stability of this optimal solution.
Dentists have long recommended dental implants as the preferred solution to lost teeth because they deliver the most natural tooth like appearance, stability, functionality, and connection to the jaw. This includes stimulating the jaw bone just as teeth roots would do. Dentures or bridges alone cannot offer such benefits. However, some people who are missing teeth in Jacksonville, FL cannot accept implants in all places where they have tooth loss. This may be because they lack the jaw bone density needed to support implants in some locations or because they simply cannot afford the number of full implants required to fill all gaps. Dentures have historically been less expensive than implants but many people still experience limited functionality with them due to their lack of firm rooting.
With All-on-4™ dental implants, Dr. Field can identify select areas of the jaw that have appropriate bone density in which to strategically place implant posts. Instead of topping these with porcelain caps, he creates a fixed or removable denture that snaps onto the top of each post and instantly fills the entire mouth as a traditional denture would. No bone grafts are required and the entire process can be completed in only one office visit. The All-on-4™ procedure offers a more affordable and minimally invasive way for patients who are missing teeth in Jacksonville, FL to restore the smiles they once had before.
Dr. Darryl A. Field and his experienced team of professionals invite Jacksonville, FL residents to visit their website or contact their office to learn more about implant supported dentures and other innovative procedures. They are committed to helping patients make September 2014 be the best Self-Improvement Month yet.
About The Doctor
Darryl A. Field, DDS, PA, is a periodontist offering personalized dental care to patients in Jacksonville, FL since 1997 Dr. Field received his Doctor of Dental Degree and his certificate in Periodontics from LSU School of Dentistry. He is part of one percent of dental professionals providing the first FDA cleared laser procedure for gum disease and periodontal treatment. To learn more about Dr. Field and his dental services, visit his website at http://www.jaxdentalhealth.com and call 904-201-8293.