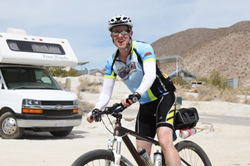 San Diego, California (PRWEB) September 26, 2014
The Men's Legal Center has created the "Great Dad" Award to honor the achievements of men who are incredible fathers and great role models for their children and the community. Mr. T. J. Zane, former President and CEO of the Lincoln Club of San Diego County and head of San Diego taxpayer advocacy and government reform non-profit organization, was chosen as the recipient of this incredible honor. Zane recently completed a 300-mile bike ride along with his son, Thomas Augustine, whose nickname is "Gus."
"We rode as part of the annual 'Ride Across California' (RAC) (a.k.a. "River to Riptide" ride) that is put on by the Rancho Family YMCA here in Rancho Peñasquitos; it is held during Poway Unified School District's Spring Break week in April," Zane says. The ride began on a Sunday at the Colorado River in Yuma, Arizona, and ended on Saturday at Moonlight Beach in Encinitas.
The first day, the father and son covered more than 18 miles, and on subsequent days they covered as many as 54 miles as they followed a route that led to locations such as Gold Rock Ranch in Winterhaven, California; the Naval Air Station El Centro to go swimming; the Vallecitos County Park; the Wynola Pizza & Bistro in Santa Ysabel; and the San Pasqual Valley Archeological Center.
According to Zane, "It was a week full of heat. All but the final day had temperatures nearing or surpassing 100° F." There was also wind and over 10,343 in elevation gain with which to contend. However, father and son enjoyed the trip; Zane said, "It was an amazing adventure for Gus and the entire family, and it was worth every minute (and dollar) spent!"
Zane's wife Rozanna, who was eight months pregnant at the time, was a Chase Driver and was accompanied by two-year-old Kendric, the couple's other son. Zane says, "I wanted to do this trip because I wanted to prove to my son that if he plans and trains he can accomplish anything he desires. Like most kids his age, he's not exactly the type that would jump at doing this... he'd just as much rather sit home all Spring Break playing Minecraft on his computer. Sometimes you just have to kick your kid in the pants and make them do something you KNOW they will remember forever and never regret."
While Gus may have been hesitant to take on this challenge, his confidence grew as his father helped him complete the bike ride. Zane says that he always tells his children to do three things: do the best job possible, have fun, and never give up.
The Men's Legal Center is happy to award the "Great Dad" Award to this wonderful father who is a role model for dads everywhere in how to inspire their children: by supporting them in their endeavors, even to the point of riding along beside them as they accept challenges. MLC believes we need more great dads in our society making a lasting impact in a positive way, acknowledging dads is one way of raising awareness! Thank you T.J. Zane for being a Great Dad!
Are you or someone you know a "Great Dad," please let us know why. Contact us by e-mail at:
info(at)menslegal(dot)com
About the Men's Legal Center: The Men's Legal Center is a law firm in San Diego that advocates for the rights of men, particularly fathers, as they face divorce, child custody and child support as well as all aspects of Family Law.