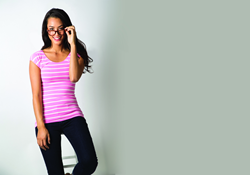 SALT LAKE CITY (PRWEB) September 30, 2014
High-style, low-price retailer DownEast today announced that its seventh annual LIVE for Pink tee-shirt promotion in support of the fight against breast cancer is now underway. Through October 31, 2014, customers can purchase the limited edition LIVE for Pink tees and DownEast will donate 50 percent of the sales – up to $20,000 total – to go to selected grant recipients.
This year, DownEast is using a significant portion of the campaign proceeds to provide grants to the "true warriors of breast cancer": women who have been diagnosed with and are currently fighting the disease. Through October 10, you can nominate yourself or someone you know who is battling breast cancer to receive a $1,500 grant and a wardrobe and gift package valued at $1,000. The opportunity is open to women in the states where DownEast has stores: Arizona, California, Colorado, Idaho, Nevada, Utah and Washington. Nominators will receive a coupon for 40 percent off any one DownEast clothing item and a free LIVE for Pink tee with their next purchase (in-store use only/while supplies last).
A panel of Salt Lake City community leaders will select eight individual grant recipients, who will be named on October 15.
To learn more, including how to make a nomination, go to the DownEast Basics blog.
"This year's individual grant recipients will truly be LIVE for Pink ambassadors, with their attitude and bravery serving as an inspiration to others," said Ginger Johnson of Happy Chemo!, a Utah organization that will receive the one group grant from the promotion's remaining proceeds. This group, which connects cancer patients to "freebies," discounts and other resources, is also working with DownEast to get the word out about this year's opportunity for individuals.
"There is often a financial burden linked with a cancer diagnosis," said Johnson, who is a seven-year breast cancer survivor. "DownEast's generous 'true warrior' grants can be used for whatever the individual recipients want or need – hopefully helping to make their lives a little easier."
Since the inception of its annual LIVE for Pink promotion, DownEast has donated more than $125,000 in honor of National Breast Cancer Awareness Month.
"Our LIVE for Pink campaign has become a regular fall event, but this is the first time we're providing financial grants directly to individuals struggling with the disease," said Klane Murphy, CEO at DownEast. "As always, DownEast strives to give back to the communities where we do business, and we believe this is a way in which we can have a very personal impact on affected women's lives. Many in our own DownEast family have been touched by breast cancer, making it an important cause to us."
DownEast and its staff proactively support a variety of philanthropic causes year-round. Breast cancer survivors within the DownEast family include Claire Freedman, mother of company founders Jonathan, Bill and Charlie Freedman, and Llilli Murphy, wife of CEO Klane Murphy.
The LIVE for Pink tees can be purchased in DownEast stores and online.
About DownEast
DownEast (http://www.downeastbasics.com), a leader in stylish and affordable apparel, home furnishings and accessories, believes that shopping should be a fun, guilt-free experience. Founded in 1991 and still family owned and operated, DownEast continues its goal of bringing customers the very best merchandise – from national brands to its own DownEast lines of home furnishings and DownEast Basics apparel – at the very best prices.
The fast-growing retailer operates nationally with its Basics line via its online store in addition to 57 locations throughout the West including in Utah, Colorado, California, Idaho, Arizona, Washington and Nevada.