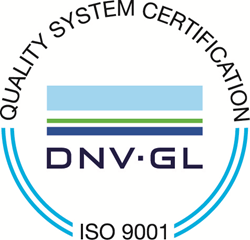 "Our customers are the focus of everything we do," said QHSE Manager Janneke Ahlers. "We pride ourselves on meeting or exceeding all industry standards for safety, service and quality."
Lafayette, La. (PRWEB) September 29, 2014
Gauthiers' is pleased to announce that the company's quality management system has been certified to the ISO 9001:2008 standard, an industry benchmark that ensures consistent, high-quality products and services are being provided to customers. The ISO 9001:2008 standard is based on recognized principles of superior quality control, including strong customer focus, motivation of top leaders, decision-making and commitment to continual improvement.
Gauthiers' certification was awarded after independent inspection and verification by DNV-GL, the industry's leading certification body. A variety of internal audits were performed to test the company's quality management system and processes. By meeting all the applicable requirements, Gauthiers' received the certificate with zero non-conformances.
The certification process has a number of benefits. As Gauthiers' documented their processes for the auditor, they were able to improve and streamline them to increase their efficiency. They also were able to better define roles and responsibilities, improve relationships with suppliers and customers, and develop sound plans for future improvement. This process doesn't end with certification, however. The company will continue to conduct regular self-audits in order to track improvements and progress.
Because of the industry's focus on safety, Gauthiers' believes that this certification will give its customers confidence in the quality of their products. "When our customers are looking for offshore containers or baskets, we want them to be assured that Gauthiers' offshore equipment is the best available," said Sales Manager Brady Allis.
"Our customers are the focus of everything we do," said QHSE Manager Janneke Ahlers. "We pride ourselves on meeting or exceeding all industry standards for safety, service and quality."
The ISO 9001:2008 standard was developed by the International Organization for Standardization (ISO), an independent, non-governmental membership organization and the world's largest developer of voluntary International Standards. Over one million companies and organizations in over 170 countries have implemented the ISO 9001:2008 standard.
###
Gauthiers' offers sale and rental of offshore containers, baskets and support equipment for domestic and international oil and gas industry customers. The company specializes in DNV 2.7-1/EN12079/ IMO MSC/CIR. 860 certification standards. Gauthiers' is an active participant on the technical committees of ISO 10855: Offshore Container-Design, Manufacture and Marking and API 2CCU: Offshore Cargo Container Design, Manufacturing and Inspection. The company serves clients locally and globally with locations in Lafayette and Houma, La. For more information, visit http://www.gauthiersrental.com.