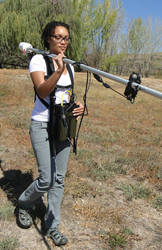 San Jose, CA (PRWEB) September 26, 2014
Geometrics, world-leader in manufacture of geophysical instruments, recently retired the G-856AX Proton Magnetometer after 32 years in production. Geometrics completely re-engineered the instrument into the G-857 offering many new capabilities while maintaining its low price. G-857 features include larger memory, fast data transmission and direct integration with GPS that includes the ability to steer in the field.
All G-856AX accessories will work with the G-857 including the sensor, sensor cable, harness, battery (rechargeable type), charger, staff, RS-232 cable and carrying case. Applications include base station for diurnal correction, geological survey for minerals and basement structure, utilities, archaeology and unexploded ordnance. Existing G-856AX systems can be upgraded with the new electronics board and updated GPS functionality for in-field steering.
The G-857 will be available in October, 2014 and all orders for G-856AX will be transferred to G-857s. Geometrics is offering a low cost upgrade path for the thousands of G-856s still in use. For more information about the new G-857 Proton Magnetometer release, visit http://www.geometrics.com or contact magsales(at)geometrics(dot)com or call 408-954-0522 for system options and a quotation.
Geometrics is a division of OYO Corporation and headquartered in San Jose, CA. The company is a world-leading manufacturer of geophysical instruments and sensors. Founded in 1969, Geometrics began operations developing innovative magnetometers.