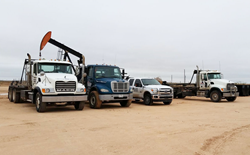 Midland, TX (PRWEB) September 29, 2014
West Texas is experiencing high economic growth and a population explosion driven by the booming energy industry. To support this high economic growth, West Texas Dumpsters has increased its number of employees, its fleet of trucks and its number of containers used to service customers by five times since the beginning of 2014. Primarily offering dumpster rentals and roll off container services, West Texas Dumpsters has also acquired a number of Texas Railroad Commission licenses and permits to better service oil and gas exploration customers in West Texas and the Permian Basin.
Midland is centrally located in the 250 x 300 mile Permian Basin, a region that is growing rapidly. Large oil and gas exploration service companies are setting up headquarters in the area and homes are being built rapidly in a place where demand outstrips supply. A new 10 acre facility has been strategically placed to keep up with customer needs throughout the basin. West Texas Dumpsters is centrally located to the area on the southwest side of Midland, TX. The dumpsters provided by West Texas Dumpsters are used to haul solid waste and debris from construction, oilfield, man camps, and residential sites. A variety of different waste solutions is offered to help cover the needs of the diverse projects taking place in the region. Proprietary mapping and GPS programs are used to make sure that projects run efficiently for customers.
In addition to regular solid waste, West Texas Dumpsters is licensed to haul contaminated dirt from oil spills for safe disposal. The Texas Railroad Commission is the governing body that regulates transport and disposal of special waste from the oil and gas industry. West Texas Dumpsters has acquired a Waste Hauler Permit from the Railroad Commission as well as the Oil and Gas Division, and it has hired certified employees to manage oil field debris. Additionally, the company offers a complete range of services including consulting, management, implementation and execution of spill cleanup incidents.