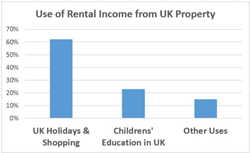 Most overseas investors spend their rental income in the UK rather than remitting it abroad. The positive effects on the UK economy of such property investment is not appreciated.
UK, Lancashire (PRWEB UK) 28 September 2014
Find UK Property conducts regular surveys on overseas investors who are looking to buy or have purchased property in the UK. A recent survey conducted in early September 2014 asked about the uses of the rental income from their UK investment property and where they deposit the income.
In response to the question, where do you deposit your rental income, the following responses were given:-
78% -UK bank account
12% -Bank account in home country
10% -Other country
They were also asked about the ONE main use for their rental income and the following response were obtained:-
62% -To fund their UK holidays and trips and use for shopping
23% -To be used towards education for children in UK
15% -Other uses
Andy Noble, Senior Marketing Consultant at Find UK Property explains "Most overseas investors actually end up opening a UK bank account for their UK rental income and keep the funds in the UK rather than converting them into their own currency or transferring them outside the UK. The positive effects on the UK economy of such property investment is not appreciated. Most of the media focus tends to be on the negative effect on property prices in London"
He added: "Increasing number of overseas buyers are now looking closely at rental yields to generate income and their research is taking them down the road of buying lower cost property away from London. This generates higher income for the same total value of investment. Our best-selling house in the North West of England costs just £54,995 and delivers 8% rental yield. The same 2-bed house on the outskirts of London could cost over £250,000 and deliver around 3% rental yield."
About "Find UK Property"
Find UK Property are the 'buyers' agent and specialize in helping serious overseas buyers find the most suitable investment property for their needs. The company conducts regular surveys on overseas investors and findings are printed at their "UK Property News" Blog at http://blog.findukproperty.com.
The most popular purchase are the fully managed low cost houses in the price range of £55,000 to £70,000 that come with full management, repair guarantees, and guaranteed rent. Many clients are seasoned investors who may have purchased investment property in other countries via sister companies Openshore Property and Sandcastles based in Dubai. Further details can be found on the Find UK sales website at http://www.findukproperty.com