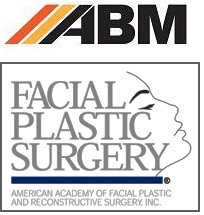 The AAFPRS members are the cream of the crop when it comes to facial plastic surgery, and ABM is honored to have been invited to teach these elite surgeons about the ever changing world of internet marketing
Carlsbad, CA (PRWEB) September 29, 2014
The American Academy of Facial Plastic and Reconstructive Surgery (AAFPRS) hosted Aesthetic Brand Marketing Inc.'s (ABM) managing director Timour Haider to lecture member physicians on the latest trends in search engine advertising, positioning and brand building. The Academy would like to thank Timour for being a part of their annual meeting.
"The AAFPRS members are the cream of the crop when it comes to facial plastic surgery, and ABM is honored to have been invited to teach these elite surgeons about the ever changing world of internet marketing," says Timour Haider.
The Aesthetic Brand Marketing Inc. Team Exhibits at AAFPRS Helping Attendees with Marketing Questions
In addition to ABM's founder being invited to join the faculty of the AAFPRS 2014 annual meeting, ABM took the time to help member surgeons in the exhibit hall with specific questions/problems related to online marketing, website development & responsive design for elective healthcare.
Google Continues to Roll out Local Search Updates
Of particular note that the ABM team discussed with meeting attendees was the continued updates to the local search engine landscape. On July 24, 2014 Google rolled out what has been referred to as the "Pigeon" update to local search results, and have continued to routinely adjust Pigeon results each month since. ABM educated members on how to take advantage of the new rules in local search and what the latest updates really mean to them.
About Aesthetic Brand Marketing Inc.
Aesthetic Brand Marketing Inc. is a boutique medical marketing agency with distinct expertise in servicing the elective health care industry. We specialize in custom tailored website marketing solutions designed to drive new potential patient inquiries. ABM's unique blend of internet consulting, search engine and social media marketing, interactive expertise & digital PR generate strong returns for our clients.
About The American Academy of Facial Plastic and Reconstructive Surgery (AAFPRS)
The American Academy of Facial Plastic and Reconstructive Surgery is the world's largest specialty association for facial plastic surgery. It represents more than 2,700 facial plastic and reconstructive surgeons throughout the world. The AAFPRS is a National Medical Specialty Society of the American Medical Association (AMA), and holds an official seat in both the AMA House of Delegates and the American College of Surgeons board of governors. AAFPRS members are board certified surgeons whose focus is surgery of the face, head, and neck. AAFPRS members subscribe to a code of ethics.