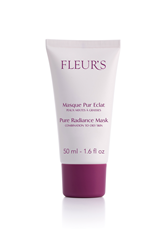 This treatment mask not only purifies the skin but also brings comfort and hydration thanks to mimosa, jojoba and sunflower.
SAINT-MALO, FRANCE (PRWEB) September 28, 2014
Fleur's introduces Pure Radiance Mask, part of the launch of their NEW Purifying Collection. Fleur's laboratories have created "floral bouquets" using advanced cultivation techniques which allow for optimal stainability and the highest grade of cosmetics efficacy. Purifying Floral Bouquet is made from three floral extracts that act in synergy to reduce sebum, detoxify the skin and reduce inflammation. This treatment mask not only purifies the skin but also brings comfort and hydration thanks to mimosa, jojoba and sunflower. It has a creamy texture and helps unclog pores, promoting oxygenation of the skin.
Pure Radiance Mask.......................50 ml, suggested retail price $40.00
Directions for use: 1 to 2 times a week, apply a layer of medium thickness over the entire face and neck, avoiding the eye contour area. Leave on the skin for 10 minutes and rinse with warm water.
Key ingredients:

Purifying Floral Bouquet - composed of three extracts that work synergistically. Sebo-regulating, purifying, detoxifying and anti-inflammatory properties.
- Silene Extract - protects the skin from bacteria. Antioxidant and soothing properties.
- Butterfly Lavender Extract - antiseptic, regenerating and softening actions.
- Samphire Extract - sebo-regulating effect. Helps reduce blemishes.
Vegetable waxes of Mimosa, Jojoba and Sunflower - brings comfort and hydration to the skin.
Kaolin - high absorbency; cleanses gently.
Impressive results:

Instantly clear skin 100%*
Even skin texture - 1st application 96%*
More radiant complexion 82%*
Satisfaction assessed on 24 volunteers for 28 days after twice-daily use.
Fleur's at a glance:
Fleur's, literally meaning "flowers," draws its inspiration and actives from the beauty and power of the floral universe, the splendor and expression of art and ultimately the inexhaustible possibilities of science. These passions are synergistically combined with aromachology, fruits, minerals, floral waters and organic ingredients to create an effective and sensorial skin care line. Fleur's focus is blending effective treatments with a true spa experience in every facet - unique and imaginative treatments and techniques. We are one of the only spa brands with our own laboratory, allowing us to research and cultivate our own ingredients, develop unique cosmetic formulas, manufacture skin care products and create cutting-edge professional treatments to deliver remarkable results.