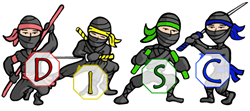 In all of the DISC Ninja training sessions we've run, we've gotten tremendous feedback from clients that are excited to have DISC framed in a new way. It's a good time.
Boardman, Ohio (PRWEB) September 29, 2014
PeopleKeys has announced the launch of "DISC Ninja," a new set of training tools designed to offer a fresh perspective on the DISC system of behavioral analysis.
As one of the biggest names in Behavioral Analysis with a strong international presence, PeopleKeys has devoted over 30 years to creating behavioral analysis tools. From Behavioral Analysis classes to personality tests, their methods of approaching DISC continue to be popular around the world. With DISC Ninja, though, PeopleKeys gives clients the chance to take an entirely different approach to DISC.
"As a DISC trainer, sometimes you just want to shake things up a bit," said PeopleKeys Director of Training John Schindell. "DISC Ninja is perfect for that. I love it because it really lets you have fun with DISC. It's a playful alternative to our traditional DISC offerings, one that looks at DISC from an entirely new angle. In all of the DISC Ninja training sessions we've run, we've gotten tremendous feedback from clients that are excited to have DISC framed in a new way. It's a good time."
Developers at PeopleKeys emphasize that DISC Ninja delivers an approach to DISC training that is "lively and unexpected." This includes a new theme, new DISC training activities, original perspectives on how to approach and discuss DISC, and new information about DISC personality styles that isn't available anyplace else.
The DISC Ninja materials are also being marketed as a way for DISC trainers and consultants to combat what Schindell calls "trainer fatigue."
"The problem that trainers and consultants face in any field is how to present information without being repetitive," Schindell explained. "If you're speaking to the same audience on two separate occasions, you need to make sure they walk away with something different each time. It's also important to find ways to present information in new ways that keeps the trainers themselves engaged and interested, and not feeling like they're 'going through the motions,' delivering the same presentation so many times they could do it in their sleep."
Thousands of people in the United States have a career based in DISC. Life coaches and corporate trainers, for example, frequently use DISC in their work with clients. "The best way to keep a relationship fresh is the element of surprise," joked Schindell. "If anything, DISC Ninja is a great reminder that if you're old hat at DISC, you don't have to rely on the same dusty old training methods."
Marketed using the slogan, "Just enough DISC to make you dangerous," the DISC Ninja offerings include:

DISC Ninja webinar training
The DISC Ninja seminar kit
DISC Ninja personality style reports
For a closer look at all of the new DISC Ninja offerings from PeopleKeys, click here.
About PeopleKeys
PeopleKeys is a leader in the field of Behavioral Analysis, and one of the world's largest publishers of DISC behavioral and educational tools. PeopleKeys helps countless people around the world gain a better understanding of themselves and others. For more information about PeopleKeys and their DISC solutions, please contact Marketing Manager Kaitlyn Miller at 330-599-5580 x113.