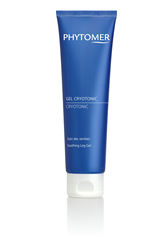 PHYTOMER introduces a professional-grade product to sooth and comfort tired muscles, specifically in the feet, legs and thighs.
SAINT-MALO, FRANCE (PRWEB) September 30, 2014
Countless people suffer from tired, achy or heavy-feeling legs due to standing for long periods of time and/or poor circulation. If the body's circulation networks are dilated too often the appearance of edema, achiness and the development of spider veins can occur. Phytomer introduces a professional-grade product to sooth and comfort tired muscles, specifically in the feet, legs and thighs. The "cryo" in the product's name means "cool" or "cold" and represents key ingredient Menthol, which cools the skin, providing a vasoconstricting effect. Another key ingredient and the "tonic" part of the name is Centella Asiatica, a plant extract that helps reduce swollen legs over a short term and relaunches drainage and microcirulation over time with consistent use. This cooling gel has a non-sticky texture with aromatic mint notes, immediately refreshing tired legs and providing instant comfort.
CRYOTONIC Soothing Leg Gel..............150 ml, suggested retail price $50.00
Directions for use: lightly massage on the legs, starting from the ankle to thigh.Use as needed.
Key ingredients:

Menthol - cooling effect, provides instant relief and soothing.
Centella Asiatica - plant extract native to the tropical regions of Asia and islands of the Indian Ocean. Decongesting and toning action to reduce the feelings of heavy legs, activates microcirculation and stimulates the biosynthesis of collagen by fibroblasts. Anti-inflammatory and vein-protecting properties.
Phytomer at a glance:
With over 40 years as the leader in the marine skin care, Phytomer is now a pioneer in the field of marine biotechnology, the future of results-oriented cosmetics. This is the newest technology to create innovative, 100% natural skin care ingredients. Based in Saint-Malo, France and distributed in 70 countries worldwide, Phytomer has a reputation of leadership and expertise within the spa industry. With Phytomer meaning "plant of the sea," we utilize seawater, seaweed or seaside plants in every retail and professional product, combining science with the natural powers of the sea. We are one of the only spa brands with our own laboratory, allowing us to research and cultivate our own ingredients, develop unique cosmetic formulas, manufacture skin care products and create cutting-edge professional treatments to deliver remarkable results.